Website change monitoring platforms enable you to be the first to know when important changes occur on any page. Did a competitor launch a new product or service? Did prices change for a product line? Or were unplanned changes made to your own websites?
With change monitoring, you can receive near real-time alerts when pages are updated.
By monitoring your competitors' websites, you will always stay up-to-date and aware of the actions your competitors take on their websites so you can adjust your strategy accordingly.
In this article, we'll explore five ways website change monitoring can help your business grow and stay ahead of the competition. So, buckle up and get ready to learn how to take your website's performance to the next level!
What's website change monitoring?
Website change monitoring is the process of tracking and analyzing the changes on websites. Depending on the platform used, these can pick up changes related to the content, design, structure, or functionality. One of the key elements that can be monitored for changes in website design is the logo design, as it plays a crucial role in a website's branding and visual identity. Monitoring can be done manually by periodically checking the website for changes, or it can be automated using website monitoring tools, such as Hexowatch.   
Here is why you should monitor pages for changes:
🔸 Be the first to know when competitors make changes
🔸 Alerts you of potential website intrusions
🔸 Notifies you of any possible problems.
🔸 Tells you what change was detected
🔸 Helps to carry out competitor research and notifies you of the changes on their websites.
5 ways to help your business grow with website change monitoring
1. Content updates checking
Website change monitoring tools notify you of the website's modifications and updates based on your chosen parameters. This will help your business update your website content and stay competitive in your industry.
You can carry out keyword monitoring to keep an eye on specific keywords on a page. It is great for picking up mentions of your brand or finding special offers.
Checking the content updates is also great for people who are selling their products or services online. They can get alerted when a new product appears or special deals or discounts are added on other websites. Based on this analysis, they will be able to change the content of their website to allure more customers.
Website change monitoring tools are also used by webmasters who have to check the quality control and data security of the websites. They don't have to check the websites manually as the monitoring tools will send them alerts whenever something changes on the website.
2. Competitor monitoring
Competitor analysis is a crucial component of a business's marketing strategy. It helps businesses understand their competitors' strengths and weaknesses, identify potential threats and opportunities, and adjust their own strategies accordingly. 
Change monitoring tools allow businesses to track their competitors' websites and gain valuable insights into their marketing strategies, allowing them to adjust their own strategies in response. Monitoring competitors will help you watch their market movement and discover what actions influenced their success.
These actions will help you identify new sales opportunities that you might have missed otherwise. By monitoring your competitors' websites and other websites in your industry, you can see new products or services being offered, changes in pricing, and changes in shipping policies. This information can help you make adjustments to your own offerings to stay competitive and attract more customers.
For instance, if you noticed that your competitor has introduced a new product, you can also add a similar product to your website. Or, if you get an alert that your competitor has lowered their prices, you can also adjust your own prices to stay in the competition.
3. Detecting website defacement
Website defacement refers to the unauthorized alteration of the visual appearance of a website, such as displaying a message indicating that the website has been hacked or having malicious code on the website. Website change monitoring tools can help detect website defacement by monitoring changes to the website and alerting website administrators when unauthorized changes occur.
Website change monitoring will help you in the following ways:
🔸 Detecting security issues on the website as soon as possible. This could be an illegal insertion or change in HTML components such as images, links, codes, text, anchor tags, etc.
🔸 Detecting security breaches.
🔸 Examining the website for redirects and other quality concerns.
🔸 Alerting when there is a risk of hacking your website.
4. Finding new talents
Website change monitoring tools can be used to track resumes that are posted online. If you're actively recruiting for a specific position, you will be the first to find them and send them your offer.
You won't have to enter those websites several times during the day. You will get the alarm whenever there are any changes. With the help of the notifications, you will identify potential candidates who may be a good fit for your open positions.
5. Protecting online reputation
Website change monitoring will also help you protect your online reputation. By monitoring your website, you can quickly identify the negative reviews or feedback that might affect your reputation. If you don't get the alert when a negative review is posted on your website, it can spread quickly and harm your reputation.
Website change monitoring tools are also great for preserving customer relations. Once customers write anything on the website you will get an alert and answer them as quickly as possible. Customers like getting quick answers to their questions. As a result, they'll trust you more and become your loyal customers.
---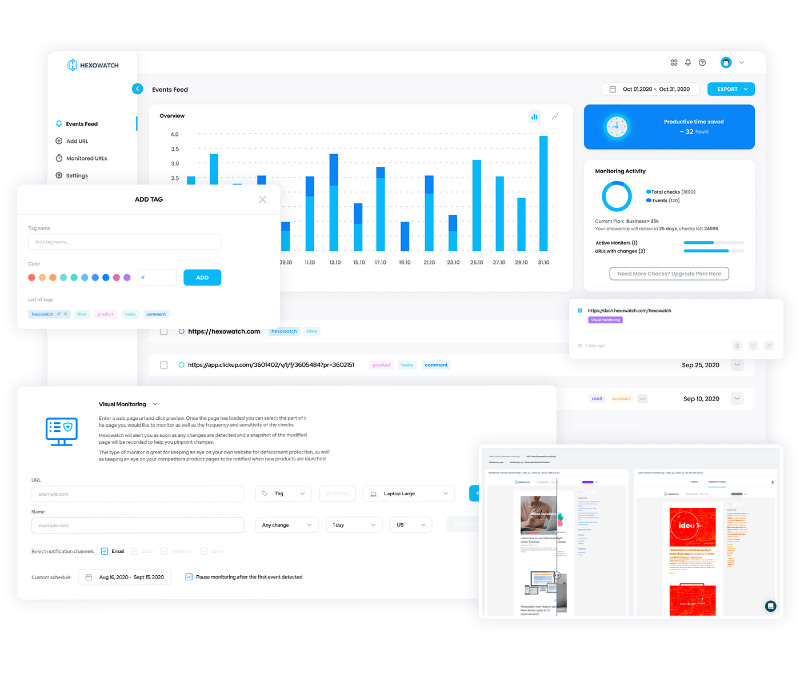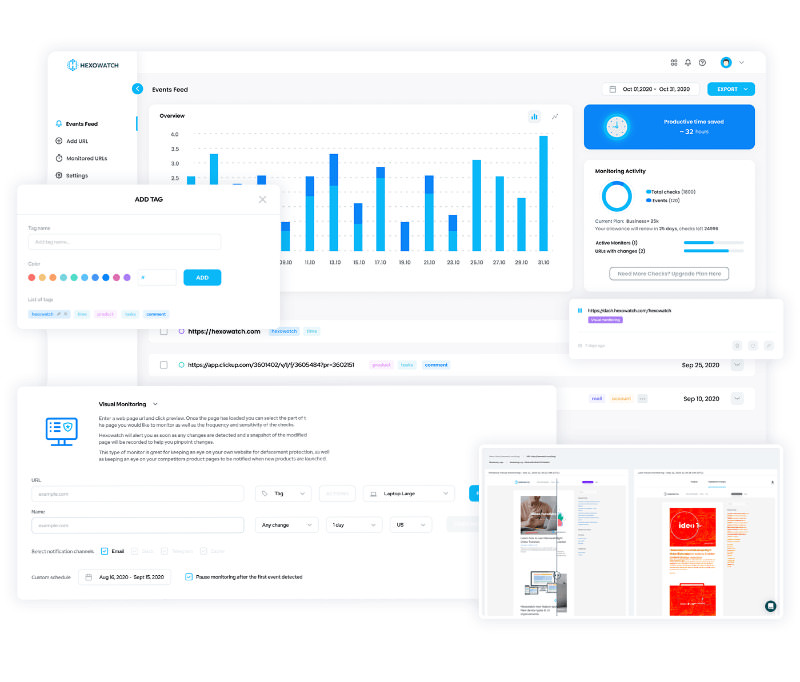 Automate page change monitoring with Hexowatch
Hexowatch is your AI sidekick to monitor any website for visual, content, source code, technology, availability, or price changes.

Hexowatch works 24/7 to help spot trends, spy on your competitors, visually check your website, keep an archive of every change and turn any website into your own private data source accessing changes as a downloadable CSV file, google sheets, or via Zapier.

Monitor any website and get started in minutes – no software, proxies, or programming required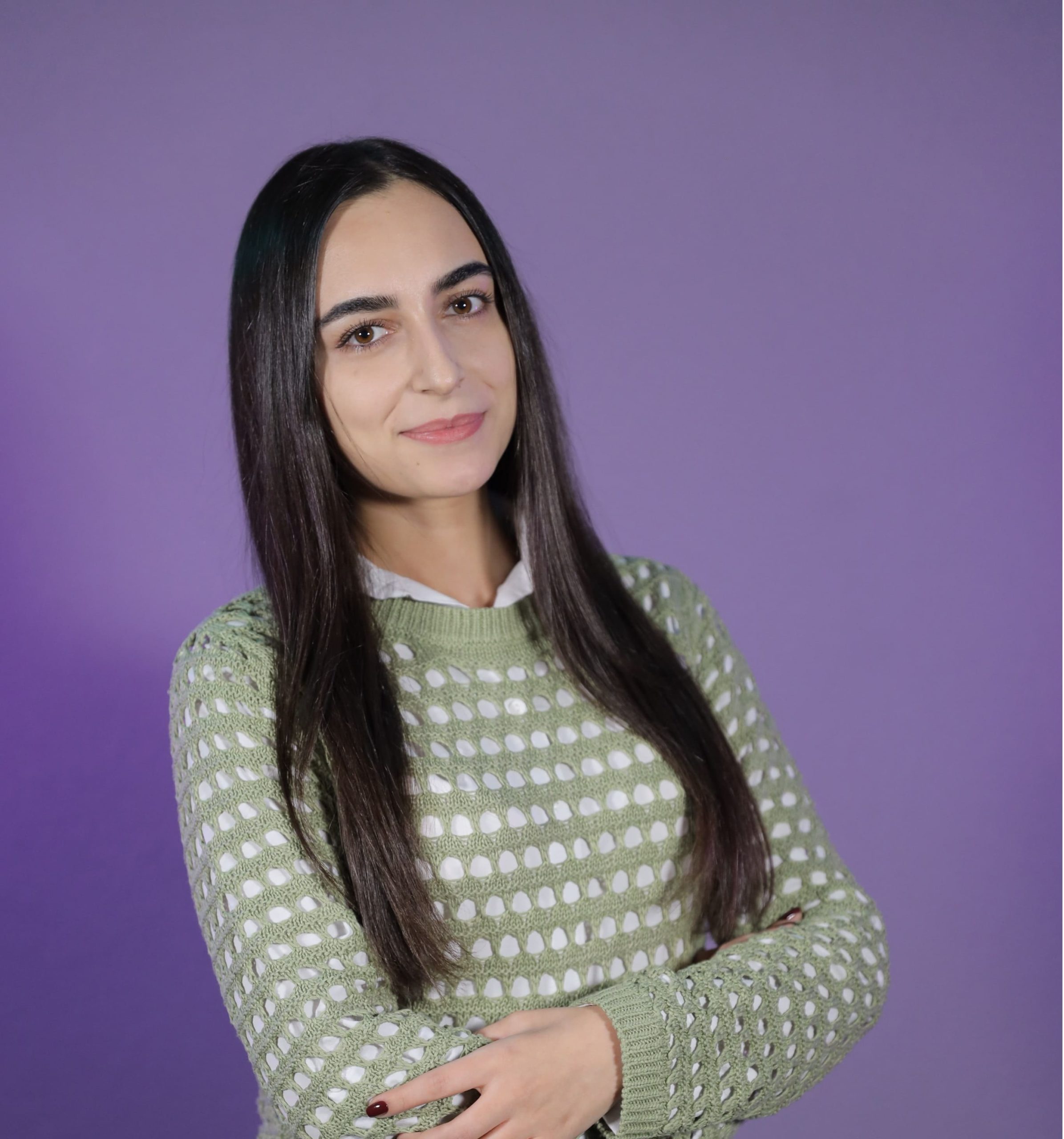 Content Writer | Marketing Specialist
Experienced in writing SaaS and marketing content, helps customers to easily perform web scrapings, automate time-consuming tasks and be informed about latest tech trends with step-by-step tutorials and insider articles.
Follow me on Linkedin