Content monitoring for SEO is a systematic analysis of your or your competitor's website content to ensure it aligns with your goals.
Content monitoring will help you identify and fix issues, optimize your content for SEO and improve your user experience and conversions. It will provide you with valuable insights and opportunities to improve your website and content strategy.
For instance, you can easily optimize your content for SEO by monitoring your competitors' websites and improving your own website's keywords or identifying gaps and updating your existing content to meet your audience's interests and needs.
In this tutorial, we will show you how to supercharge your online presence with content monitoring and use the best content monitoring tool to get alerts when content changes occur on your competitors' websites.
But first, let's find out what are the benefits of content monitoring for SEO and why you should include it in your content marketing strategy!
What are the main benefits of content monitoring for SEO?
Content monitoring is crucial for optimizing your website's SEO. It will help you improve your website's visibility and performance in search engine rankings. Here are some of the advantages of content monitoring for SEO you should consider:
Competitor analysis: With the help of content monitoring, you can keep an eye on your competitors' SEO strategies. Once you start monitoring their content performance, you will get valuable insights into industry trends and identify gaps in your own content strategy.
Keyword optimization: Monitoring your competitors' websites will help you identify which keyword performs well and create a list of relevant keywords that you can add to your content to drive organic traffic.
Content freshness: Monitoring content ensures that businesses keep their website's content fresh and up to date. By regularly reviewing and updating content, adding new information, or refreshing outdated pages, businesses can demonstrate to search engines that their website provides current and valuable information, which can positively impact search rankings.
How to monitor competitors' content with Hexowatch
Now that you know the main benefits of content monitoring for SEO, it's time to learn how to monitor competitor's content to increase your organic traffic and stay on top of your online presence.
Here's how you can monitor content for SEO using Hexowatch– the best content monitoring tool that doesn't require any specific skills to start monitoring and is super easy to use.
To get started, sign up for a free account on Hexowatch. Once you've created your account, navigate to the Hexowatch dashboard and follow these simple steps:
Step 1: Choose content monitoring
Hexowatch provides a range of monitoring options. If you're interested in monitoring the content of your competitor websites, you should choose the option Content Monitoring.
You have the flexibility to monitor individual URLs or multiple URLs in bulk, depending on your needs.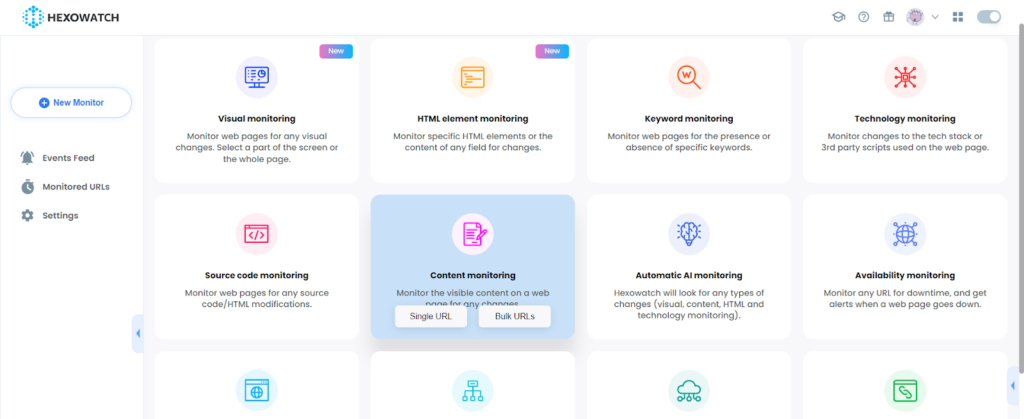 Step 2: Add the page URL
After selecting your preferred monitoring option, simply enter the URL you wish to check into the designated field. Then, click on the Preview button. Hexowatch will show you the content found on that specific page, starting from text to images.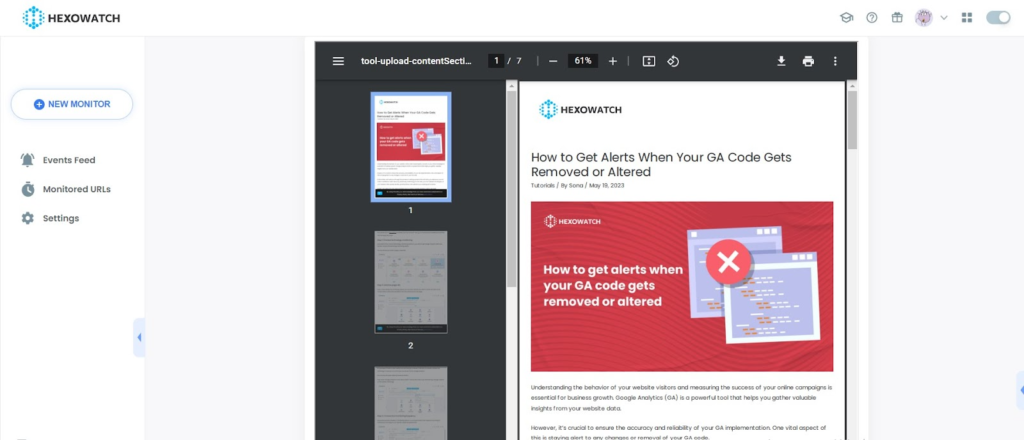 Step 3: Choose the part to monitor
With Hexowatch, you have the flexibility to choose between two monitoring options. First, you can monitor the entire content of a webpage for any changes.
Alternatively, you can specify certain sections or specific content elements that you want to track. By selecting this option, you will receive alerts only if changes occur within the specified content, ensuring you stay informed about the specific updates you're interested in.

Step 4: Choose the monitoring frequency
Now you can personalize the frequency and timing of alerts according to your specific needs and preferences.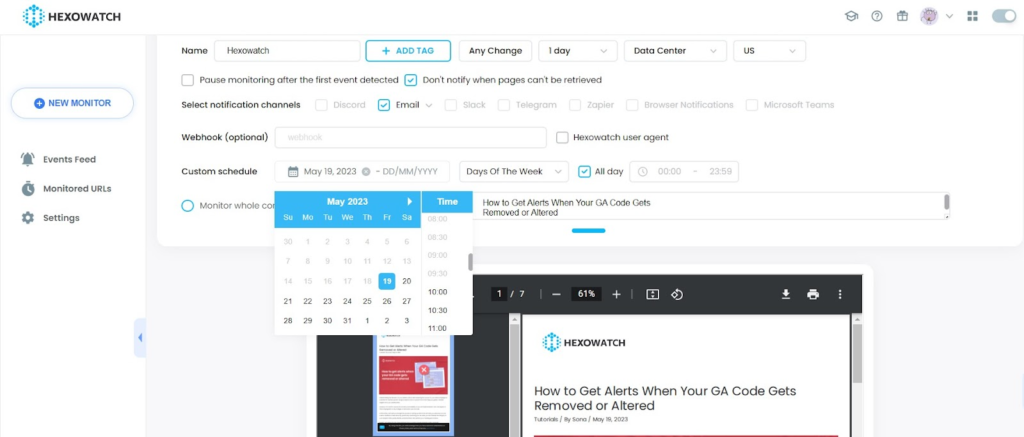 Hexowatch also offers a diverse range of notification channels for receiving alerts. You can choose from various options, including Email, Slack, Telegram, Zapier, Browser Notifications, Microsoft Teams, and Discord.
To ensure that you receive alerts through your preferred notification channels, it's important to add your accounts to the settings of Hexowatch.
After you've provided all the necessary information and made your desired configurations, simply click on the "Start Monitoring" button. This action will initiate the monitoring process and activate the alert system based on the criteria you've specified.
You will now get alerts when content changes occur on your mentioned web page.
Step 5: Get alerts when content changes
After Hexowatch detects any changes in the monitored content, you can easily access and review the results.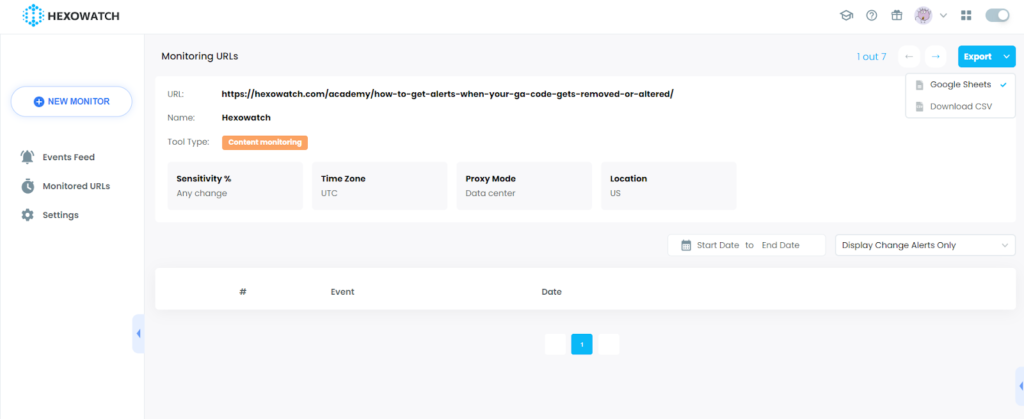 You can also export the results in a format that suits your needs, such as CSV or Google Sheets, making it convenient for further analysis or documentation.
---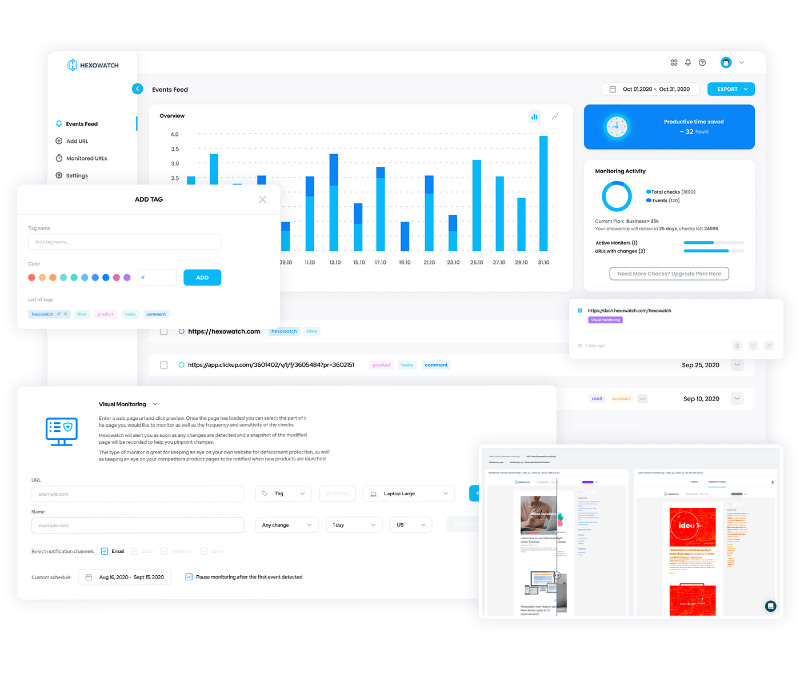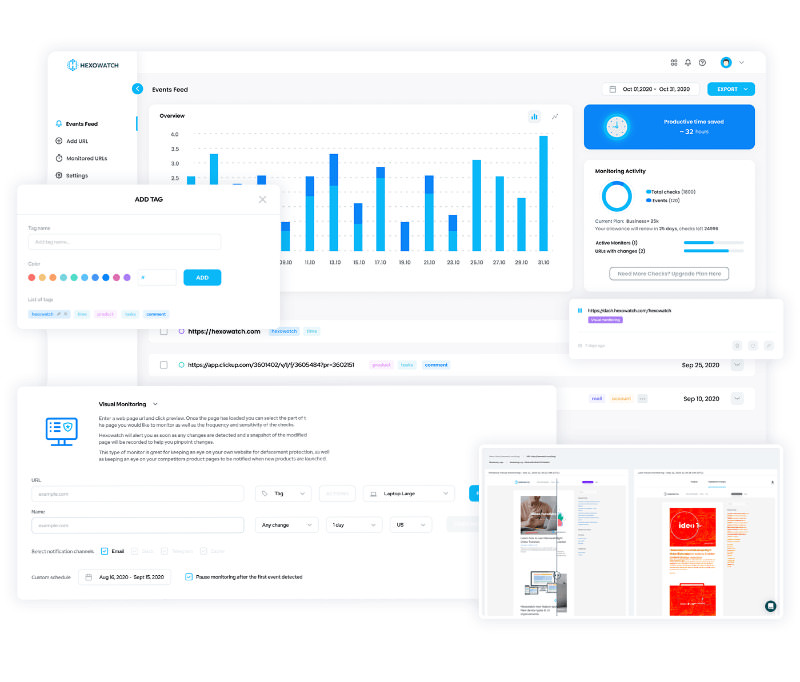 Automate page change monitoring with Hexowatch
Hexowatch is your AI sidekick to monitor any website for visual, content, source code, technology, availability, or price changes.

Hexowatch works 24/7 to help spot trends, spy on your competitors, visually check your website, keep an archive of every change and turn any website into your own private data source accessing changes as a downloadable CSV file, google sheets, or via Zapier.

Monitor any website and get started in minutes – no software, proxies, or programming required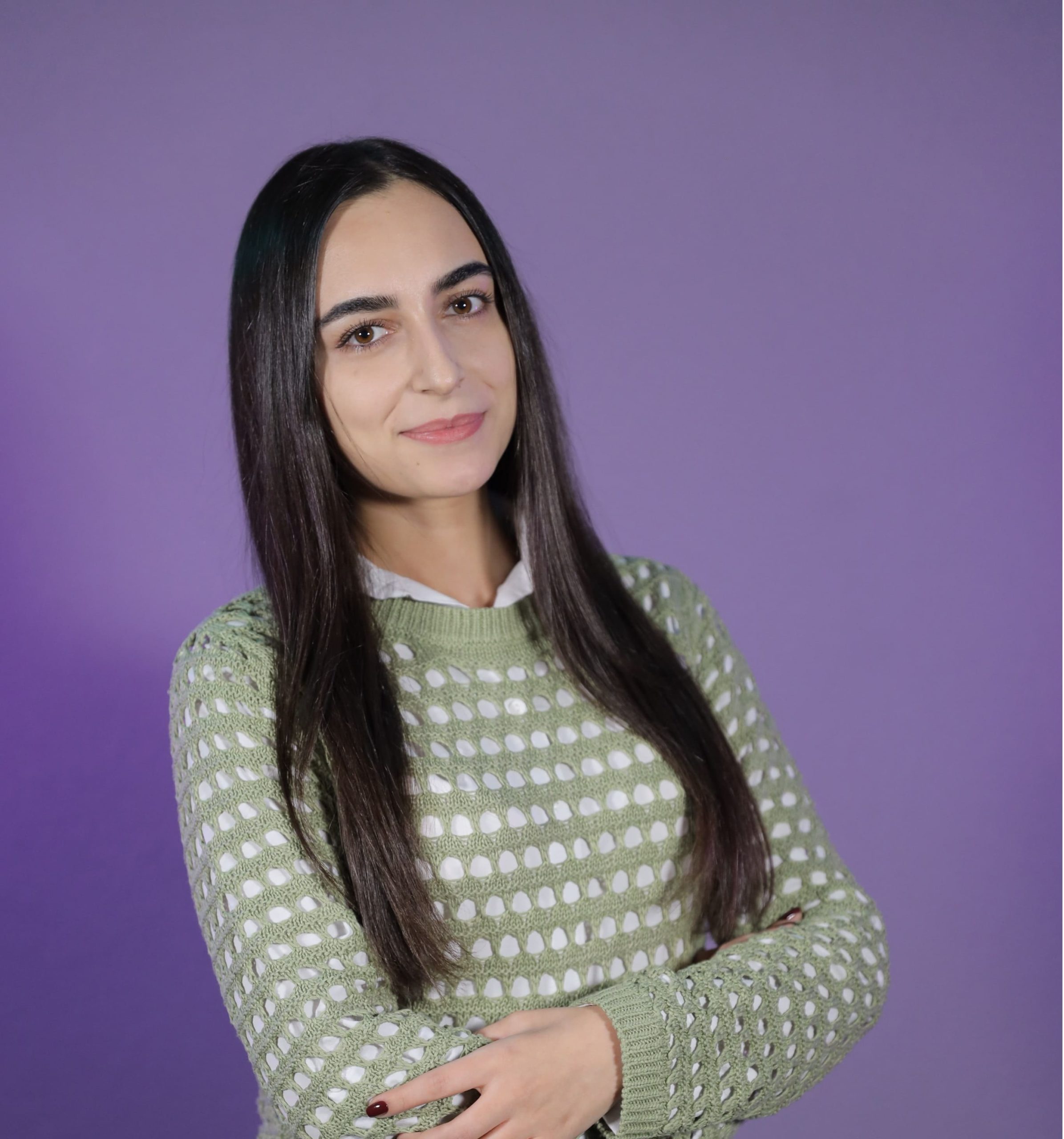 Content Writer | Marketing Specialist
Experienced in writing SaaS and marketing content, helps customers to easily perform web scrapings, automate time-consuming tasks and be informed about latest tech trends with step-by-step tutorials and insider articles.
Follow me on Linkedin