Apple's iPhone, iPad, Mac, and Watch products are immensely popular, especially when Apple unveils new products or iterations with game-changing new features.

The problem is that these product launches often sell out leading to extended waiting times if you want to get your hands on the latest device. This also affects the refurbished products, which often sell out fast on the most popular configurations sold with heavy discounts.
The great news is that there is now a more practical and efficient approach to keep track of Apple Store products. Hexowatch provides near real-time notifications when prices change or when Apple products come back in stock!

Let's review how Hexowatch can help you stay one step ahead to be the first to snap up your Apple gear and grab the best discounts.
How often do Apple Stores restock?
The restocking of Apple Stores typically takes place on a daily basis. However, it is essential to note that while most items are replenished quickly, there is no guarantee that the specific product you want to buy will become available again in the near future. In any case, when new shipments do arrive, the products are usually made available for sale quickly, often even before the start of the next business day.
How to monitor Apple availability and price changes in 4 steps?
For Apple enthusiasts who are eager to get their hands on the latest products, having a convenient tool for tracking, as well as receiving price change notifications, can greatly enhance their shopping experience.
Hexowatch offers a great solution for receiving restock notifications as soon as Apple products become available. Its user-friendly interface makes it easy to acquire the newest phones, tablets, and accessories without the need to constantly wonder about the best time to check Apple Store inventory or manually visit the website multiple times a day.
With Hexowatch flexibility, you can monitor selected web pages at intervals that suit you best, ranging from every five minutes to a few weeks and months. As soon as any changes occur in a product listing, Hexowatch will send you a notification, allowing you to decide whether it's the right time to make your purchase.
The convenience of Hexowatch extends to tracking various types of products in the Apple Store and receiving reliable back-in-stock notifications. Getting started is a simple process that involves just a few easy steps.
Option 1: HTML monitoring
Hexowatch offers a powerful solution for monitoring Apple product restocks through its HTML element monitor feature. By specifying the particular HTML element on the Apple website that contains crucial information like stock availability or product updates, Hexowatch will diligently keep track of any changes in that element.
Step 1: Capture the Apple product page URL
To begin, open your web browser and navigate to the Apple website. Next, browse or search for the specific product page of the Apple product you wish to monitor. Once you are on the desired product page, simply copy the URL from the address bar at the top of your browser.
Step 2: Choose the Hexowatch HTML element monitoring option
Within Hexowatch, select the HTML element monitoring option, which allows you to monitor specific elements on a webpage.
Step 3: Insert the product page URL and select the element
Paste the Apple product page URL into Hexowatch. Then, click on the "Preview" button. Next, identify and select the specific element on the page that you want to monitor for changes.
Step 4: Start monitoring
Next, you'll move forward by picking the preferred frequency for Hexowatch to conduct checks on the specified element. Additionally, you'll indicate your preferred notification method for any changes detected by Hexowatch.
Now, click on the "Start Monitoring" option to trigger the monitoring procedure. Hexowatch will monitor the chosen element on the Apple product page, aligning with your specified preferences, and guaranteeing you receive real-time updates if any changes happen.
Option 2: Visual monitoring
Through the implementation of visual monitoring, Hexowatch tracks the availability and price changes of Apple products considering the visual differences. It identifies visual modifications like the elimination of "out of stock" labels or updates in product availability. When any visual changes occur on a particular page, Hexowatch sends you a notification.
Step 1: Capture the Apple product page URL
Enter the Apple website and copy the URL of the specific product page you want to monitor.
Step 2: Choose the Hexowatch visual monitoring
Access the Hexowatch dashboard and click on "New Monitor" to choose the monitoring option you need. In this case, you need to select visual monitoring. The latter allows you to add a single URL or multiple URLs for monitoring.
Step 3: Insert the page URL in Hexowatch
Paste the copied Apple product page URL into Hexowatch. Then, click on the "Preview" button.
Step 4: Start monitoring
In Step 4, customize your monitoring preferences to suit your needs. Adjust check frequency, proxy mode, and alert channels based on your preferences. Then, click "Start Monitoring" to begin. Hexowatch will actively track Apple product availability based on your settings and send you notifications if any changes occur.
---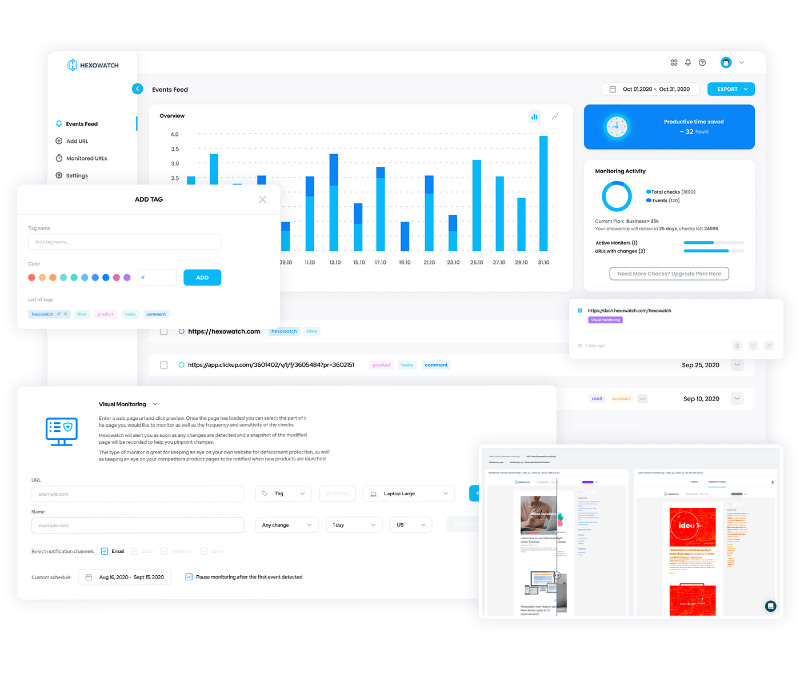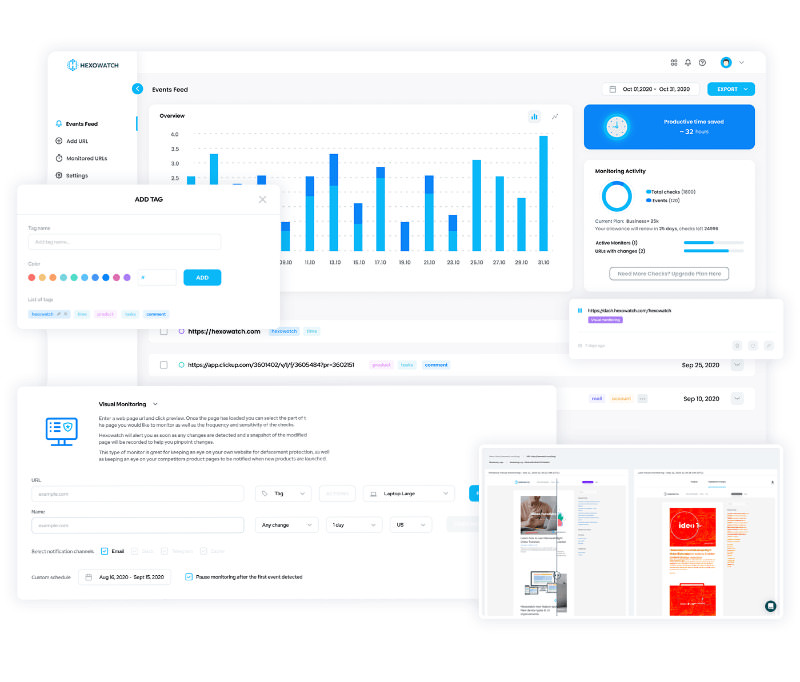 Automate page change monitoring with Hexowatch
Hexowatch is your AI sidekick to monitor any website for visual, content, source code, technology, availability, or price changes.

Hexowatch works 24/7 to help spot trends, spy on your competitors, visually check your website, keep an archive of every change and turn any website into your own private data source accessing changes as a downloadable CSV file, google sheets, or via Zapier.

Monitor any website and get started in minutes – no software, proxies, or programming required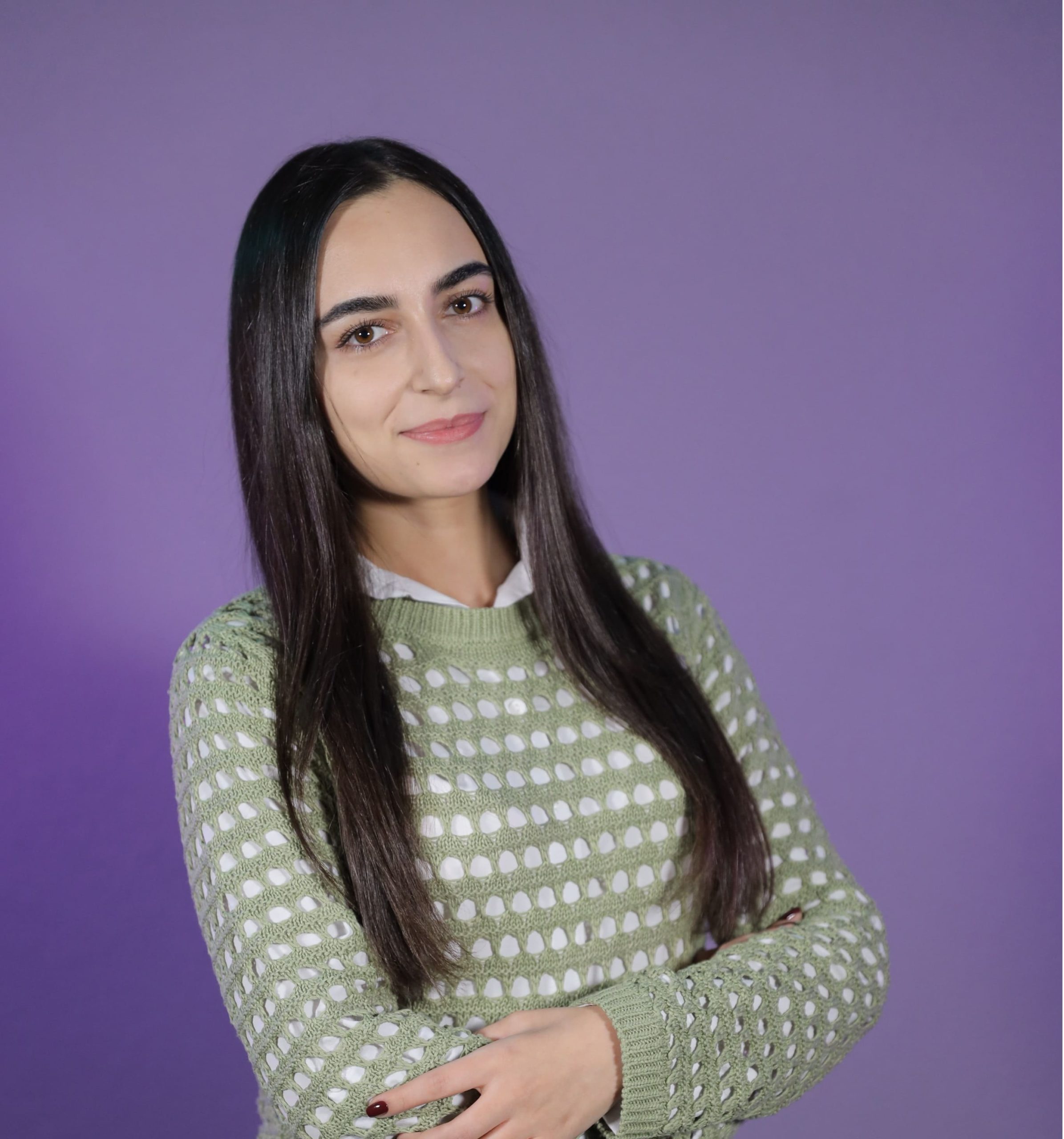 Content Writer | Marketing Specialist
Experienced in writing SaaS and marketing content, helps customers to easily perform web scrapings, automate time-consuming tasks and be informed about latest tech trends with step-by-step tutorials and insider articles.
Follow me on Linkedin