Want to know how to fast-track concert tickets to find out when they go on sale online or monitor the ticket availability to buy them before they are sold out again? Whether you want to learn about new concerts, get festival news, or check ticket availability, Hexowatch will track it for you and send alerts whenever it notices changes on the website.
Because of the daily hassle, it's not easy to remember to check your preferred ticket and festival websites for new concert announcements, or instant presale ticket drops.
The great news is that you don't have to bookmark those websites and check back for updates all the time. It is stressful and requires consistent time and effort.
Hexowatch is a website monitoring tool that will automatically check your preferred website or any element on the website and will send you alerts once there are changes in the website you monitor.
In this article, we will show you how to save time with Hexowatch and get alert when the ticket is on sale or available again!
How to fast-track concert tickets with Hexowatch
You can use Hexowatch to automatically monitor any web page on the internet. Anyone can monitor a website with Hexowatch as it is easy to use and doesn't require any coding skills or software to download.
Here is an example of monitoring ticket availability on a website. This will help you get instant alerts when concert tickets go live again!
Step 1: Search for the ticket
Search for your favorite singer's or band's concerts online. Browse the websites to check the availability of the tickets.
Step 2: Select the "HTML element monitoring" option
There are several monitoring options available on Hexowatch. You should choose the one that best suits your needs. In this case, we will choose HTML element monitoring to monitor a specific element on the webpage.
Step 3: Copy and Paste the URL
Once you find the website you want to monitor, copy and paste its URL into the URL field on Hexowatch. Add the name, then click on Preview. In case the website doesn't load, change the Data Center option with Residential GEO and select the preferred country to preview the website.
Step 4: Select the element
Once the page appears below, select the part you want to monitor. You can choose either the whole page or a specific element for monitoring. In this case, we will choose the element "No tickets available" and click on the option Select HTML code. This means Hexowatch will send us an alert if any changes are made to this element.
Step 5: Choose the frequency of alerts
Now it's time to specify how often you want the page checked. Choose the "Any Change" option and the frequency ranging from 5 minutes to 3 months. Finally, click on Start Monitoring to start the process.
And that's it! You'll be notified about the new ticket availability and get the alerts before they are sold out again!
You can perform these steps as many times as you want to monitor different websites at one time.
If the tickets are available but you're not happy with the price, you can easily monitor the prices by choosing the price elements on the web pages. You'll get an instant alert when there are any changes related to the prices.
What pages can I monitor with Hexowatch?
You can monitor any website you want! If you like the concert tickets on a specific webpage, you can copy and paste the URL into the URL field on Hexowatch and monitor the tickets without wasting your time.
Here are just a few examples of websites you can monitor to get alert when the information about tickets changes:
Ticketmaster: Set alerts on tickets following the 5 steps mentioned above. Find the concert tickets you like and monitor them for ticket availability or lower prices. You can also monitor the pages of separate concert events and get alerts when Ticketmaster updates the information on the page.
Bandsintown: This website is a great option for you to find the concert tickets of the most popular bands. You can search for upcoming concerts in your area and find local shows or popular bands that will have concerts in your area. You can search through the local events by genre and look at the show calendar. Once you find your favorite events you can start monitoring them with Hexowatch.
SongKick: SongKick is a good option if you are looking for a more simplified website to track on concert tickets. You can find concerts near you and monitor them for better prices. The great thing about this website is that it includes separate web pages of all famous singers and bands and their tours around the world. You can choose your favorite artists and monitor their separate pages. Once they add a new event, you will be the first to know about it!
Livenation: Livenation is another great website that will allow you to track your favorite artists or music genres. You can filter the website using the event calendar, location, and favorite genres and monitor the events based on the search results.
These are a few websites you can use to carry out ticket tracking for concerts, but you are free to choose any web page on the internet and track the events that best suit your needs.
To sum up
Now that you know how to fast-track concert tickets with Hexowatch, you can save your time and energy on more important tasks but at the same time get alerts when the information about ticket prices or availability changes.
There is no need to check the tickets on several websites manually yourself. Simply set alerts on tickets with Hexowatch and get notified when they get on sale.
---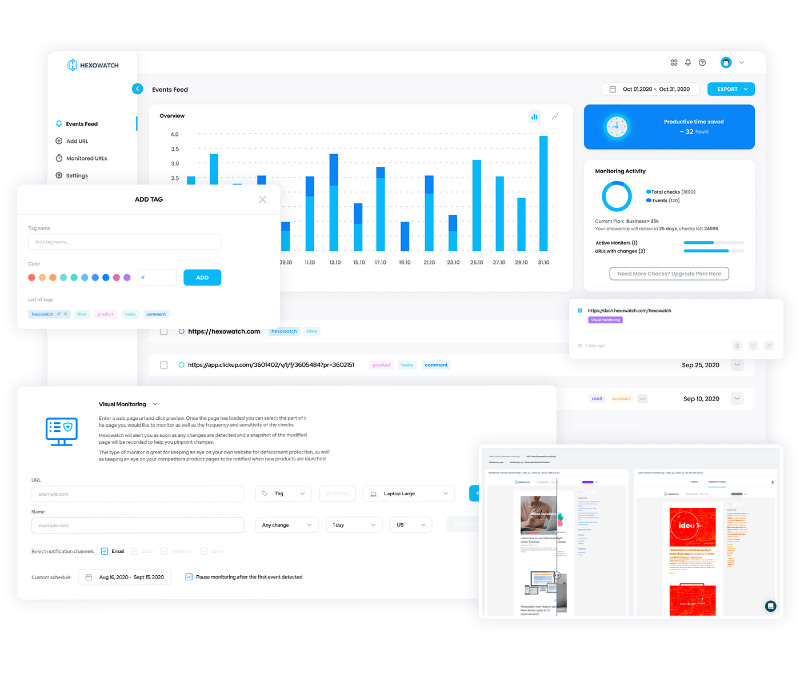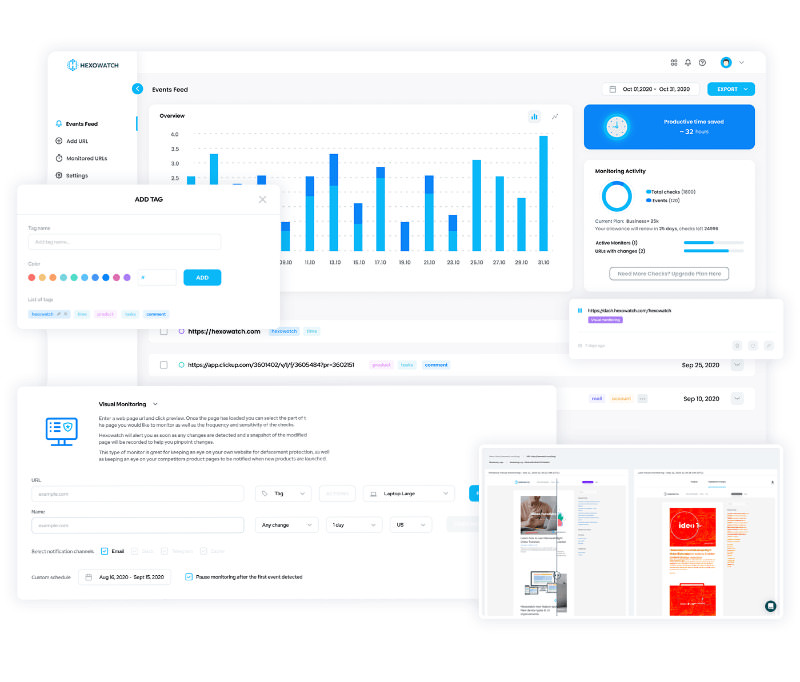 Automate page change monitoring with Hexowatch
Hexowatch is your AI sidekick to monitor any website for visual, content, source code, technology, availability, or price changes.

Hexowatch works 24/7 to help spot trends, spy on your competitors, visually check your website, keep an archive of every change and turn any website into your own private data source accessing changes as a downloadable CSV file, google sheets, or via Zapier.

Monitor any website and get started in minutes – no software, proxies, or programming required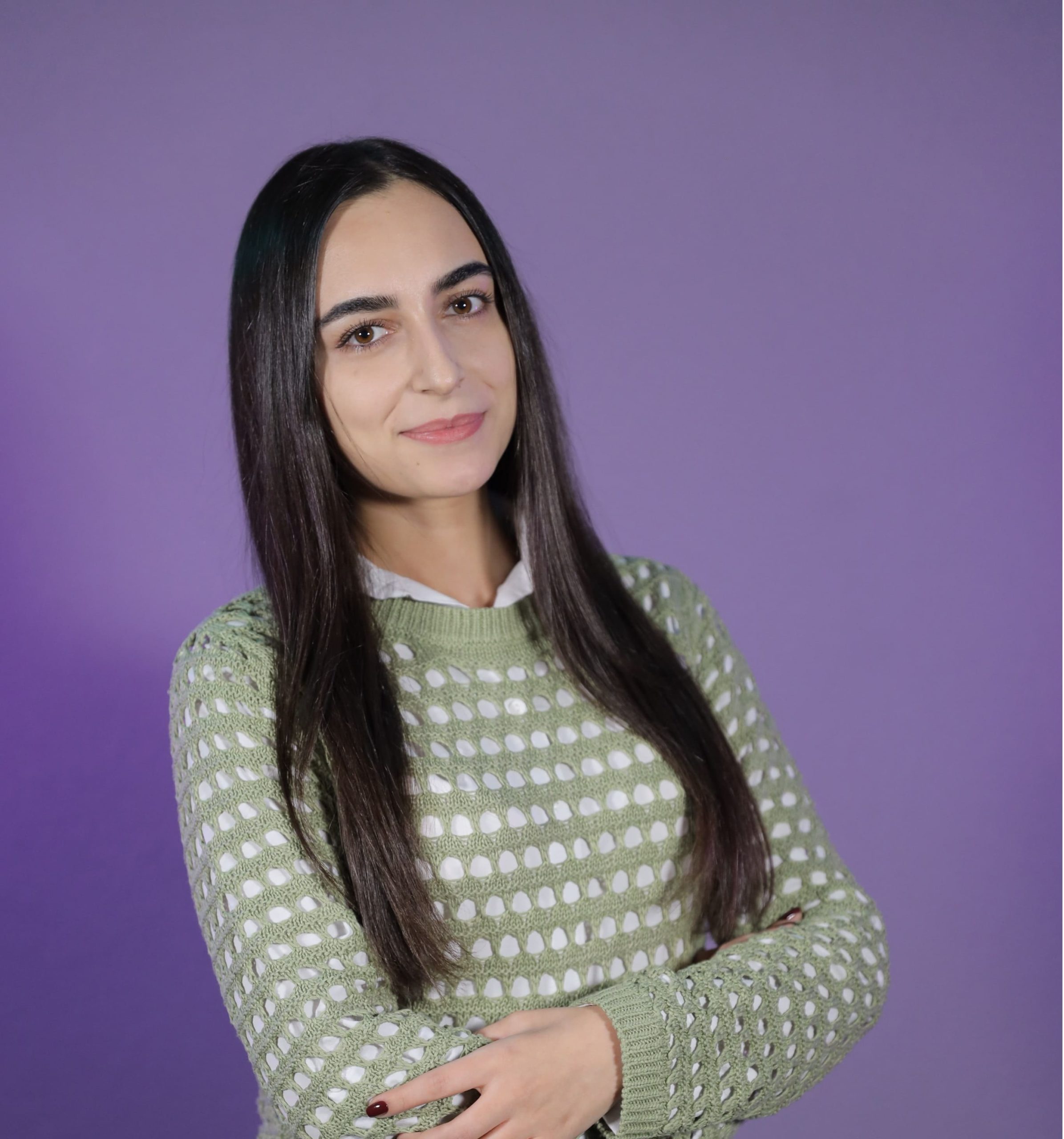 Content Writer | Marketing Specialist
Experienced in writing SaaS and marketing content, helps customers to easily perform web scrapings, automate time-consuming tasks and be informed about latest tech trends with step-by-step tutorials and insider articles.
Follow me on Linkedin