Due to the large and ever-growing number of cryptocurrencies available for trading, the crypto landscape has become increasingly complicated.
Every day, new cryptocurrencies are launched, making it difficult for traders to remain up-to-date on potential investments.
As the largest and most popular exchange platform, Binance is widely considered as the go-to source for tracking the newest coins on the market – they regularly list vetted coins that can be traded.
Investors researching cryptocurrencies often put in a lot of effort seeking out the most promising coins on Binance and those that may offer the best value.
But how can they monitor the crypto market all the time?
Well, saving the Binance webpage in the browser's bookmarks and checking it regularly for any new cryptocurrency listings is an option. But how much time will it take you daily? You must spend the whole day just monitoring the market.
Change monitoring tools like Hexowatch are a better alternative you can use.
By using Hexowatch, you can simply add the URL of the web page and wait for the change alert to appear via your preferred notification channels. So you don't have to worry about monitoring the cryptocurrency market while you do other tasks.
In this tutorial, we will demonstrate how to automate cryptocurrency market monitoring using Hexowatch in 5 simple steps.
To get started, you need to have a Hexowatch.com account.
How to use Hexowatch to get Binance crypto coin alerts
Hexowatch is a change monitoring platform that is capable of monitoring visual, pricing, the stack, content, and any other changes on websites and sending instant alerts when changes are detected.
Hexowatch is ideal for cryptocurrency monitoring. It is simple and fast, and you can get started in minutes – no software, proxies, or programming required.
Below, you will find the simple steps to use to monitor the Binance crypto markets page to receive instant alerts once new crypto coin listings appear.
Step 1: Capture the desired Binance page URL
Navigate to binance.com and capture the crypto markets page URL.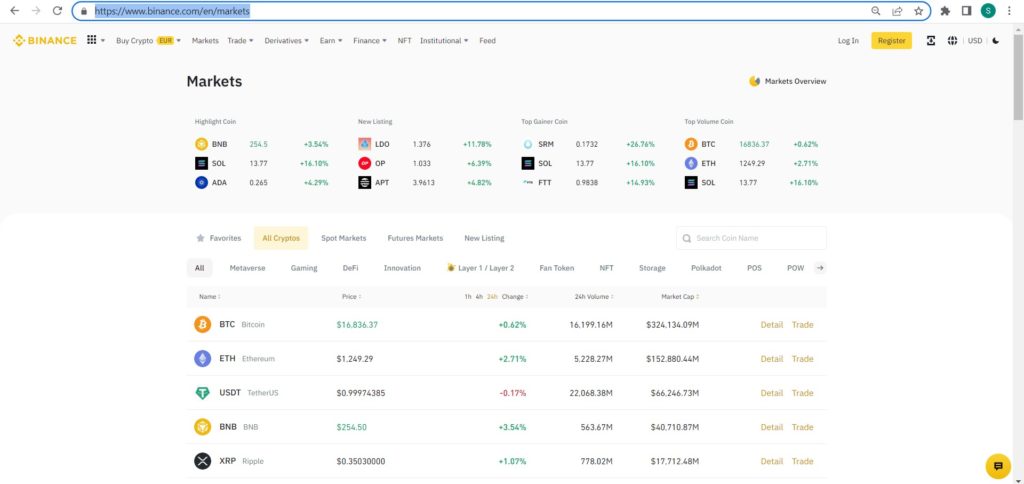 Step 2: Select the Visual Monitor
Get back to your Hexowatch dashboard and select Visual monitoring from the monitors' list.
This monitor allows you to add a single URL or bulk URLs to monitor a list of web pages.
Step 3: Insert the captured page URL in Hexowatch
Once the monitor has been launched, insert the previously captured Binance crypto markets page URL and click Preview.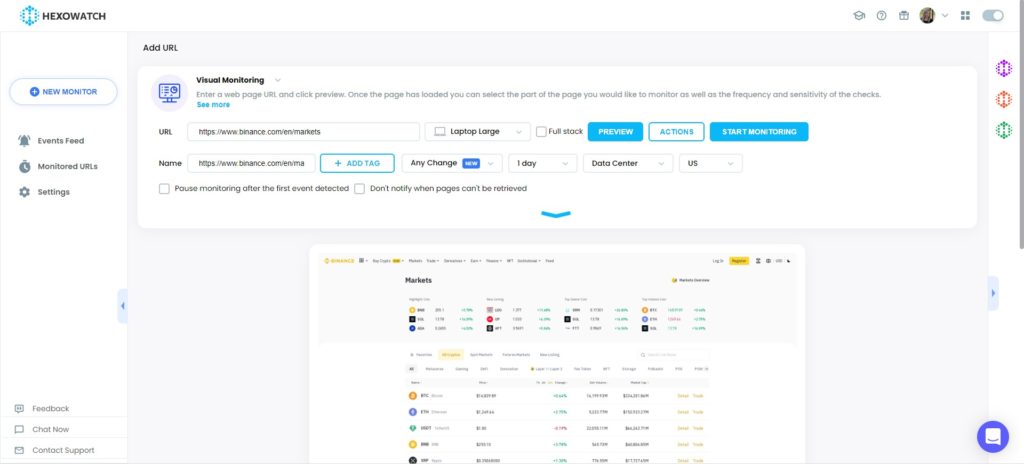 Step 4: Set the monitoring specifications
After previewing the page, you can set the monitoring specifications. For example, you can specify the frequency you want Hexowatch to check the page – from 5 minutes to days, and months, select your preferred notification channels to receive alerts, etc.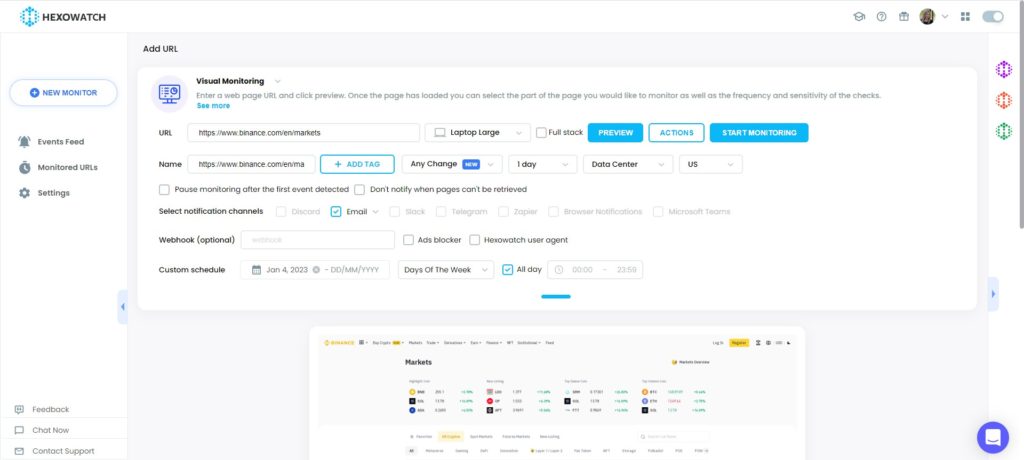 Step 5: View and save the results
Once the changes are detected, you can view them in the Monitored URLs section of Hexowatch. Then, you can conveniently download them to a CSV file or Google Sheets with a single click.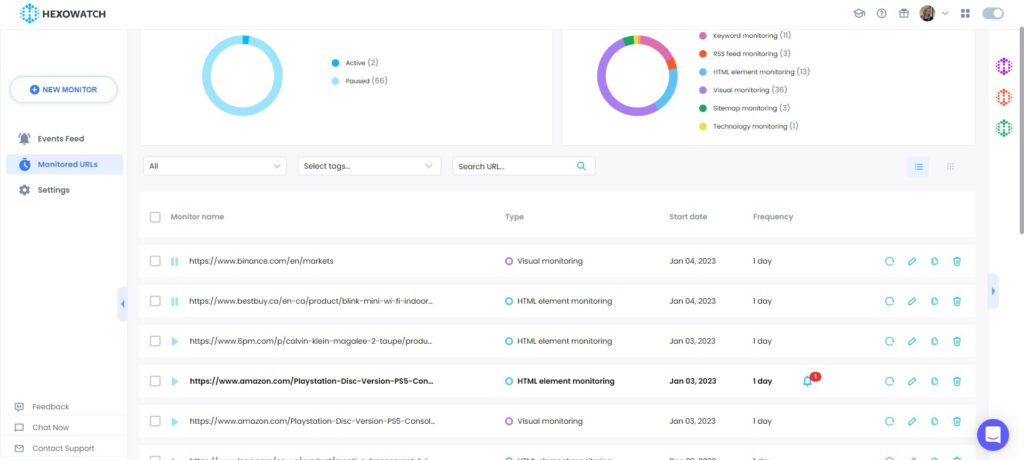 ---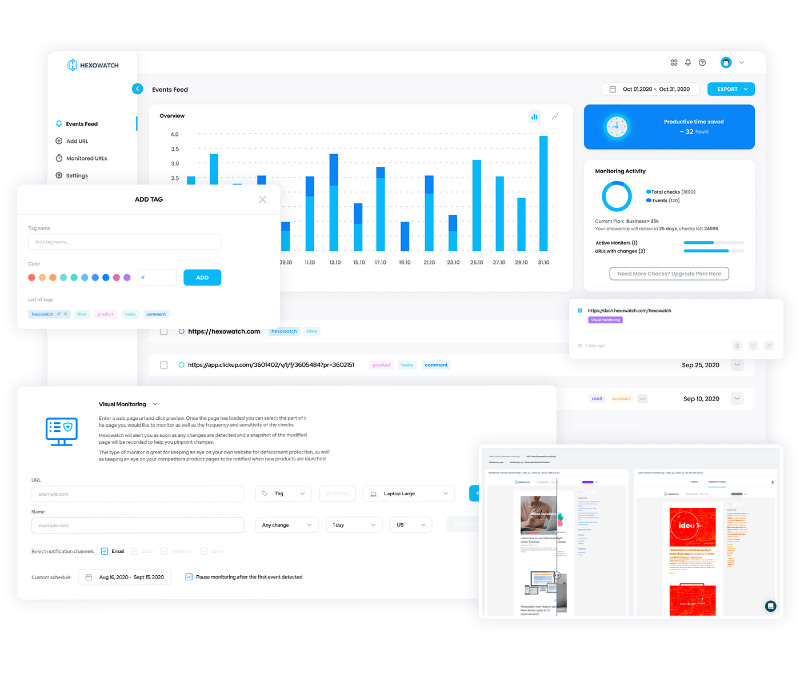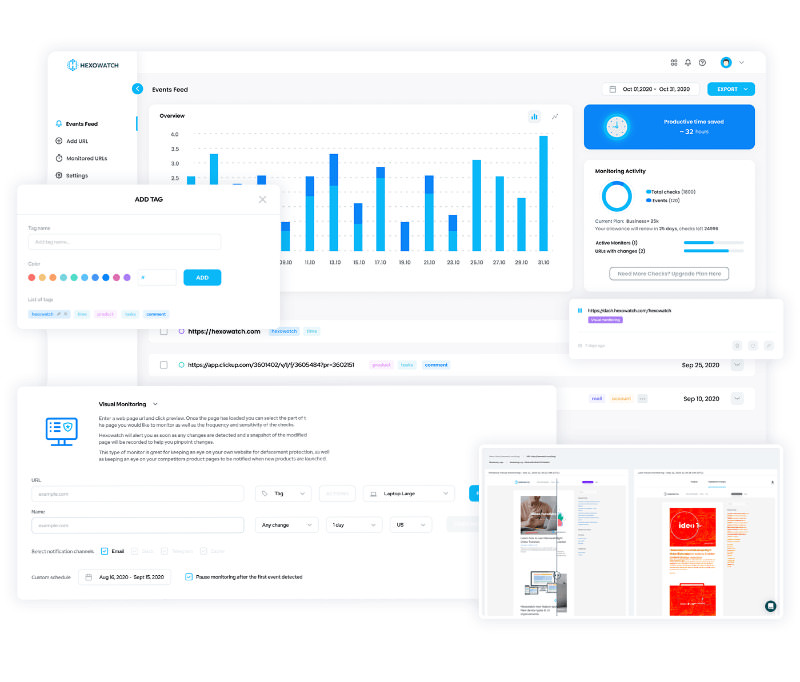 Automate page change monitoring with Hexowatch
Hexowatch is your AI sidekick to monitor any website for visual, content, source code, technology, availability, or price changes.

Hexowatch works 24/7 to help spot trends, spy on your competitors, visually check your website, keep an archive of every change and turn any website into your own private data source accessing changes as a downloadable CSV file, google sheets, or via Zapier.

Monitor any website and get started in minutes – no software, proxies, or programming required
Marketing Specialist | Content Writer
Experienced in SaaS content writing, helps customers to automate time-consuming tasks and solve complex scraping cases with step-by-step tutorials and in depth-articles.
Follow me on Linkedin for more SaaS content