Taking a look at your competition can make your business stronger, in this guide we will review the most potent competitive spying tools you can deploy to stay one step ahead of your competition.
Competitive monitoring tool roundup
So, here are 19 tools that you can use to spy on your competitors. You can use them to monitor competitors and their SEO, PPC, ads, as well as blog content.
Hexowatch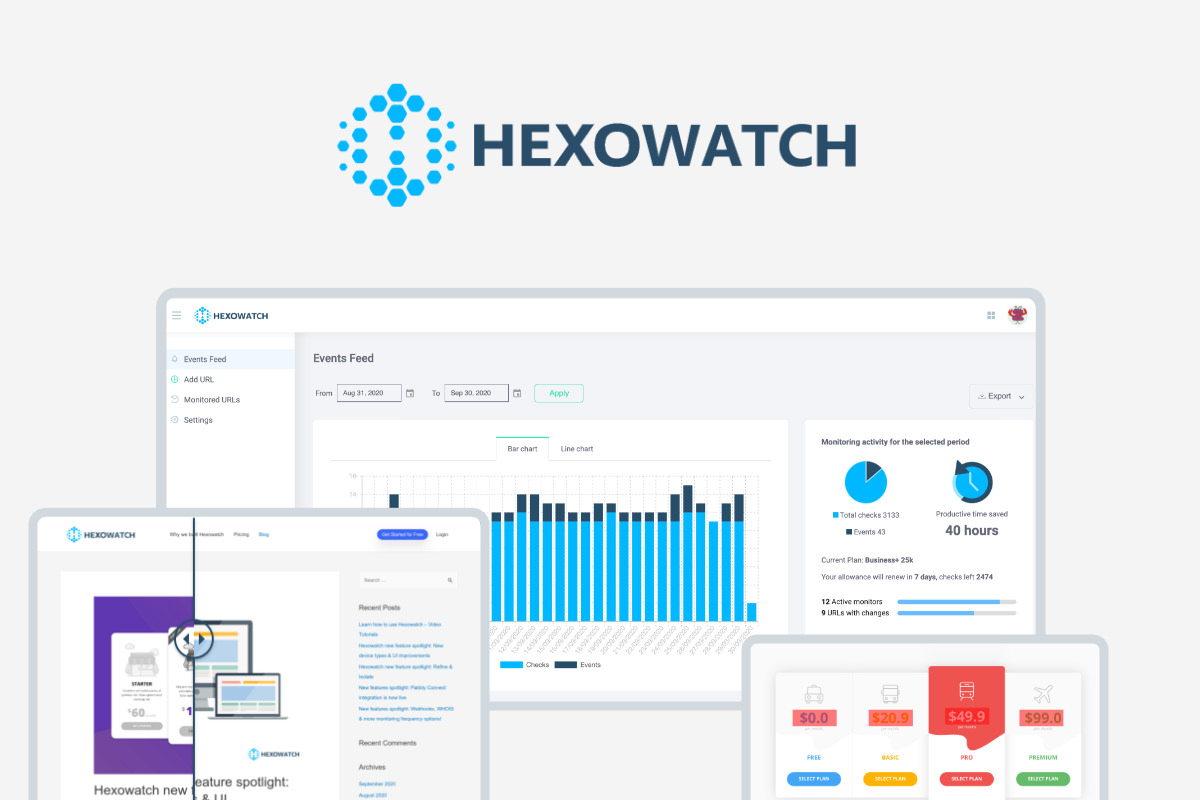 Hexowatch's sophisticated AI can monitor any website for changes in visual, source code, website content, keyword, technology, price changes, WHOIS or the availability of a product. Within a matter of minutes, you can access archived snapshots, which allows you to see how things have changed over time and spot trends. You can set up change alerts, which can be delivered via email or on other platforms such as Zapier, Pabbly Connect, Telegram, Slack or even webhooks to your custom application.
You can get started free at Hexowatch.com , no programming, proxies, or software is required.
SimilarWeb
SimilarWeb leverages ISP and web browser extension data to provide traffic analytics of 3rd party websites breaking down estimated traffic and referrals on a per channel basis.
They provide a free plan with limited data as well as an enterprise level solution for more in depth data.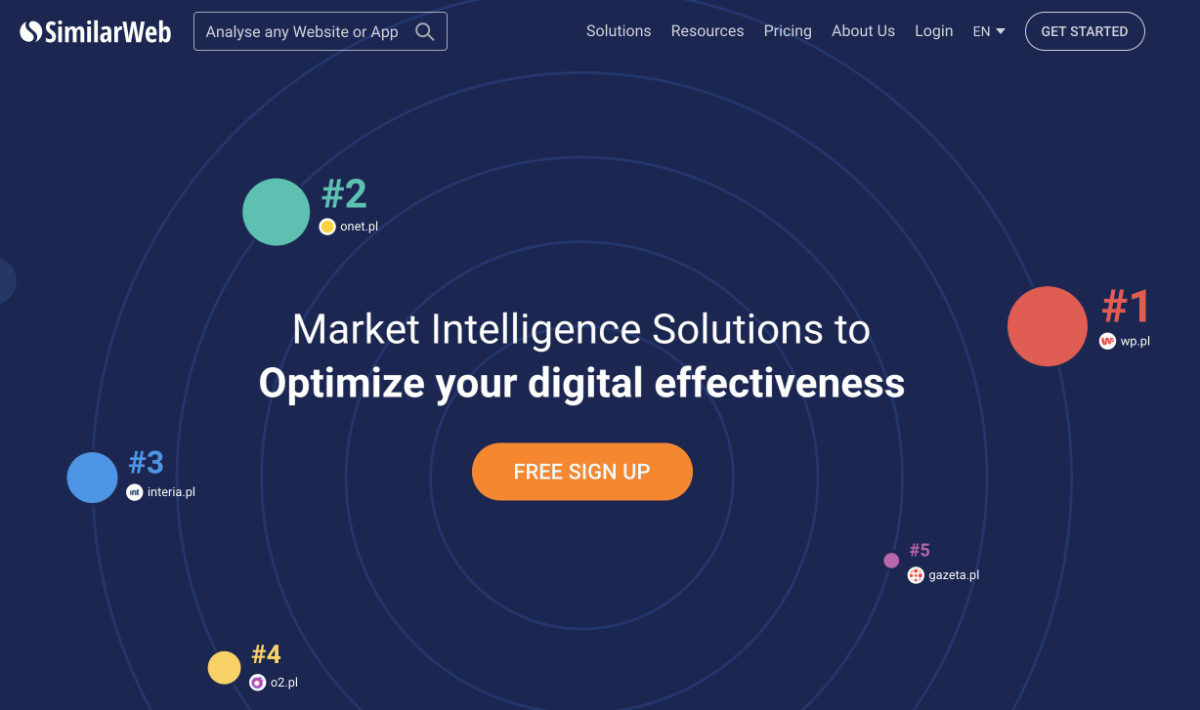 Google Keyword Planner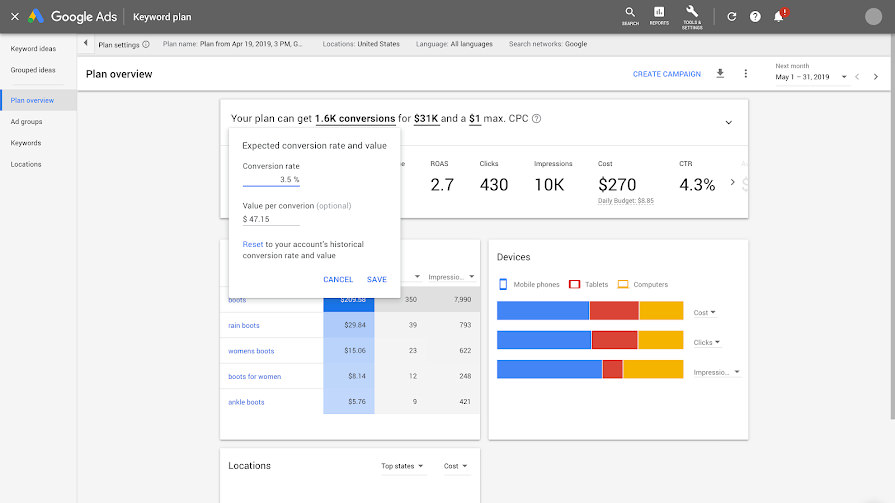 Even though it is heavily used, this tool can still offer unique insights. Simply put your URL in the 'your landing page' field; this way, you can learn ideas for keywords, ad groups, and you can get an understanding of average keyword traffic.
Google search operators
Google has too much information and infographics, so use a search operator to refine your queries and get relevant results. These are simple techniques – you can put your search term in quotation marks, combine a site's URL and a keyword, or use link and info commands in the search engine. Our favourite operators include:
Search social media
Put @ in front of a word to search social media. For example: @twitter.
Search for a price
Put $ in front of a number. For example: camera $400.
Search hashtags
Put # in front of a word. For example: #throwbackthursday
Exclude words from your search
Put – in front of a word you want to leave out. For example, jaguar speed -car
Search for an exact match
Put a word or phrase inside quotes. For example, "tallest building".
Search within a range of numbers
Put .. between two numbers. For example, camera $50..$100.
Combine searches
Put "OR" between each search query. For example, marathon OR race.
Search for a specific site
Put "site:" in front of a site or domain. For example, site:youtube.com or site:.gov.
Search for related sites
Put "related:" in front of a web address you already know. For example, related:time.com.
See Google's cached version of a site
Put "cache:" in front of the site address.
Ubersuggest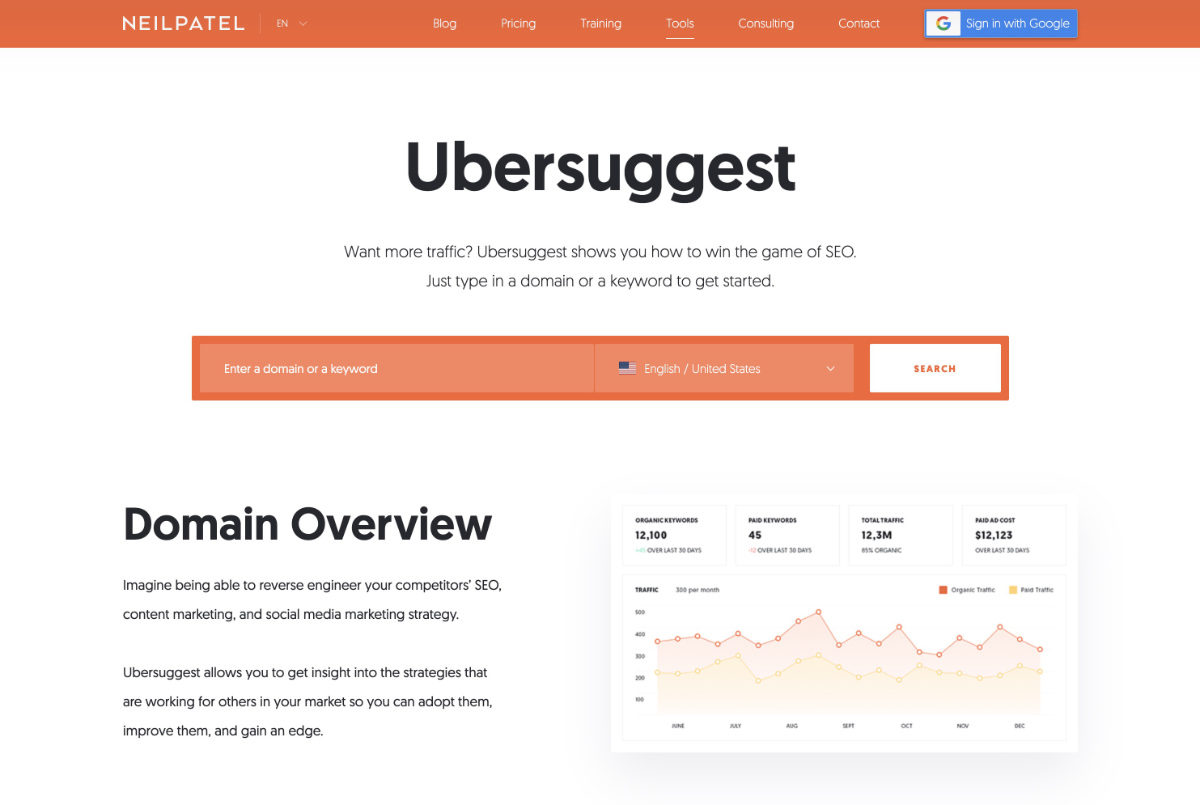 This free tool helps you monitor the backlinks used by competitors. It's superb for offering lots of information, such as referring pages, domain score, anchor text, and URL. With the Traffic Analyzer Overview, you will see data on organic keywords, monthly traffic, and SEO.
Mozbar
This web browser extension gives on-page metrics on web pages. It's also free.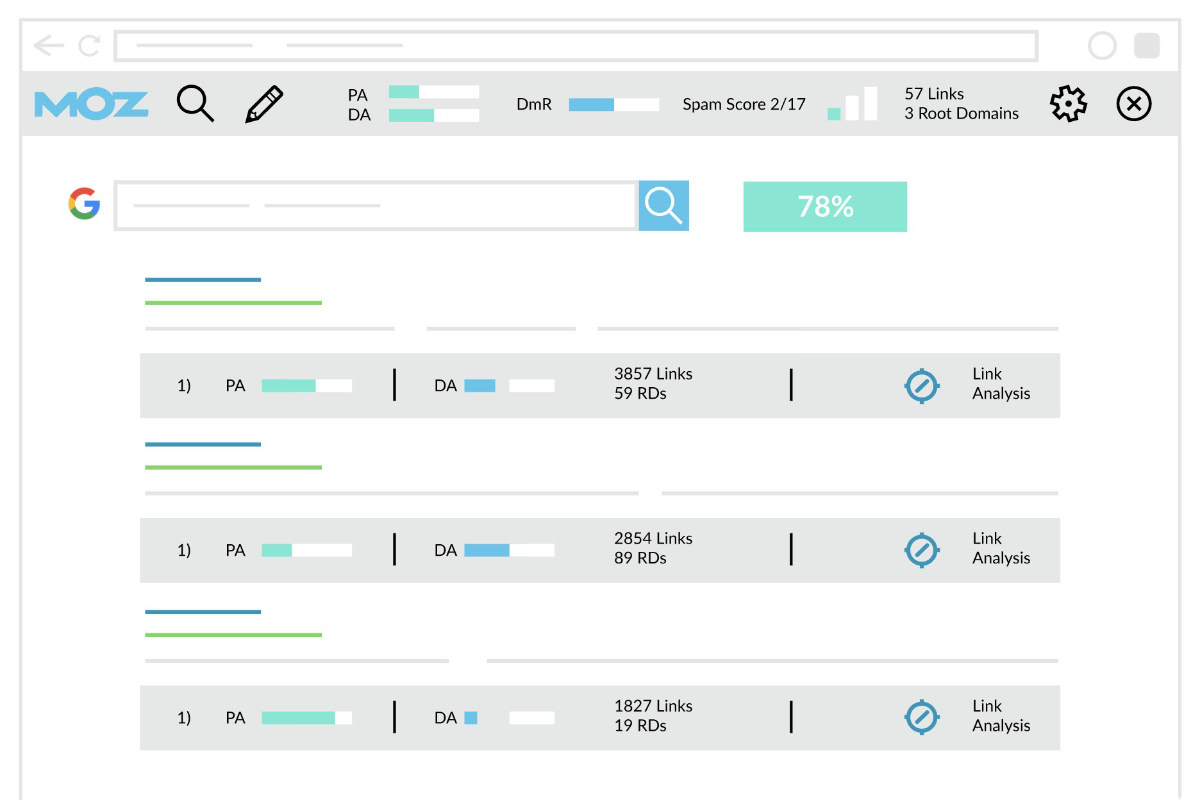 Ahrefs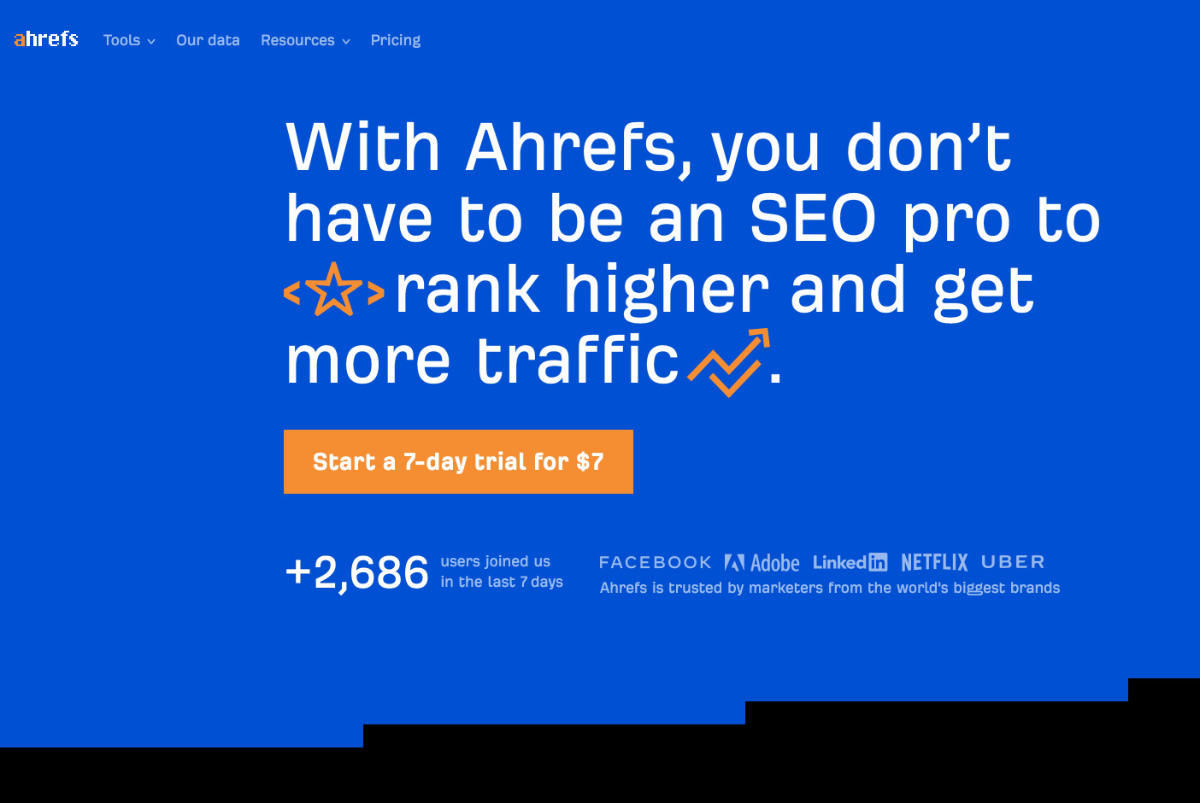 Ahrefs tracks a competitor's backlinks, and you can also learn about the competition's domain authority, referring domains, and new referring domains. Overall, you can see how fast they are gaining links, and with this information, you can decide if you can compete or if you need to set a more realistic target.
Hootsuite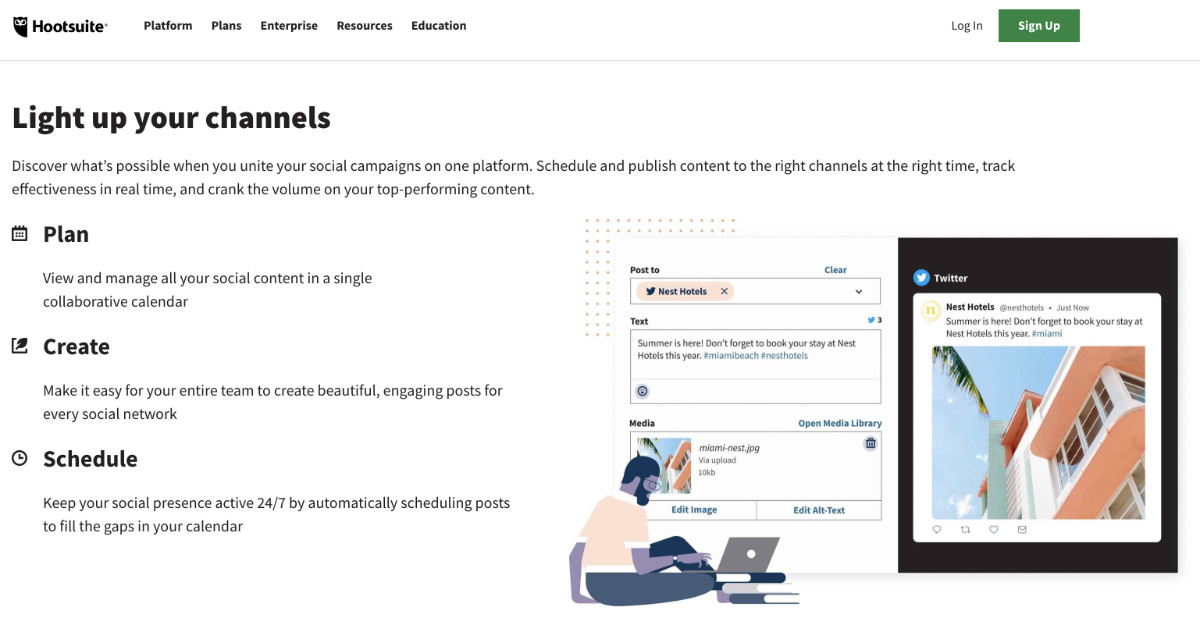 This tool can be used with a wide range of social networks, allowing you to set up multiple streams. All of this information can be easily monitored from your dashboard. Monitor hashtags, particular keywords, and the activity of your competition.
Pro Rank Tracker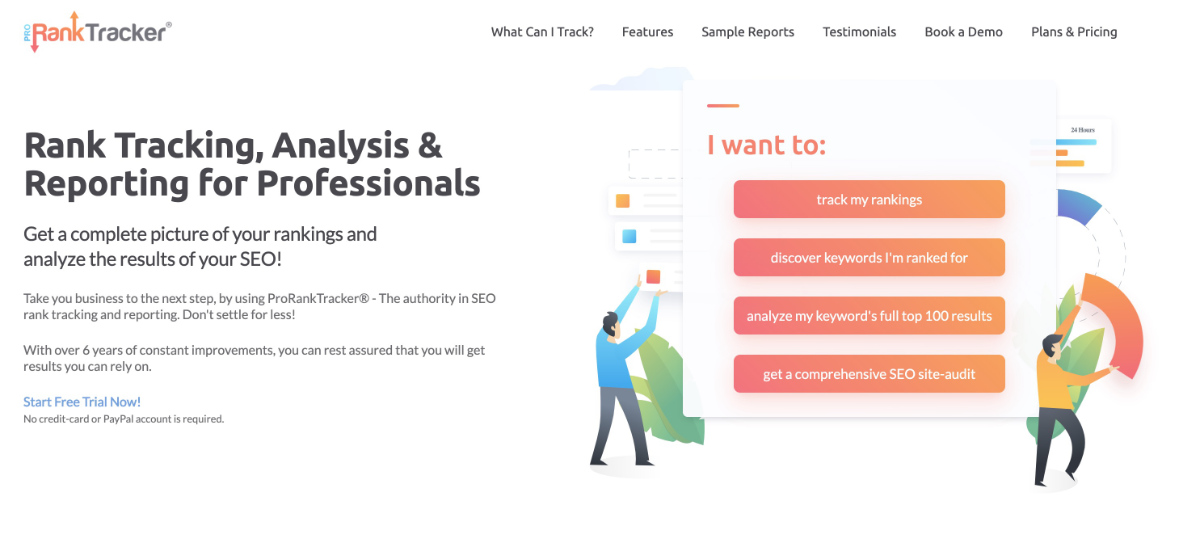 This can be used in unison with Google Keyword Planner. Take the keywords from that tool and use Pro Rank to rank them (doing so manually would be time-consuming). You can rank according to search engine and geographic location.
Spyfu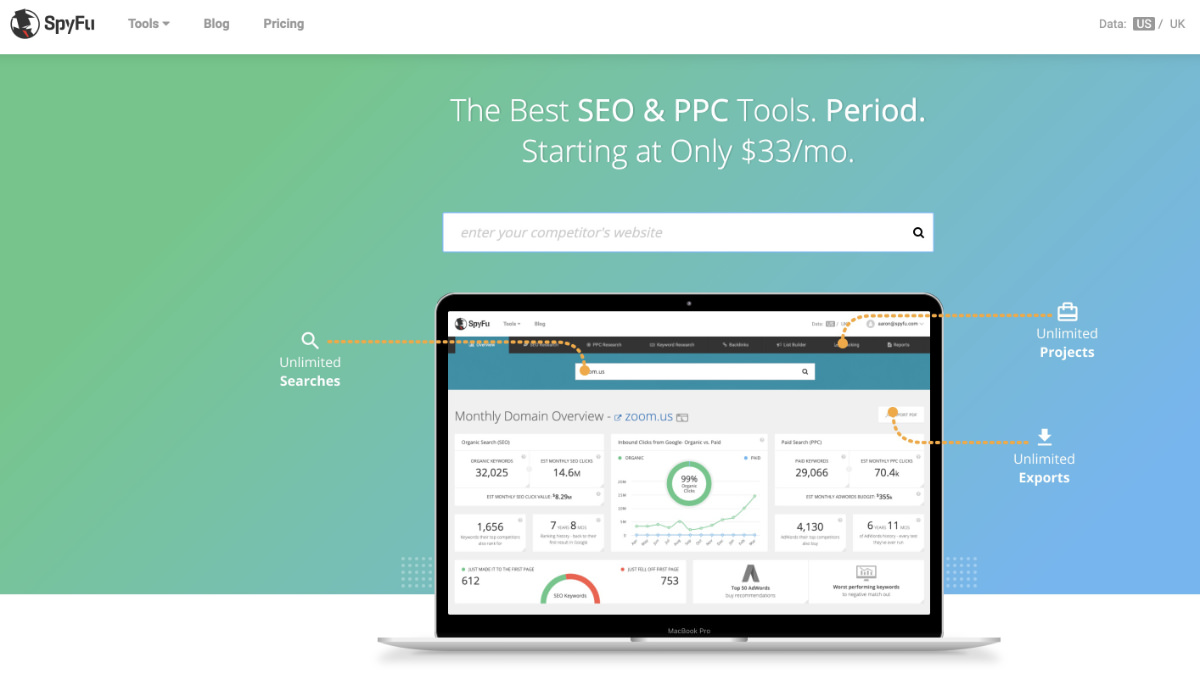 Spyfu is great for beginners. Use it to monitor a keyword in a PPC, the cost per click, and the monthly budget. The Ad History feature shows how a campaign has changed over time, which is great for understanding what does and doesn't work.
Majestic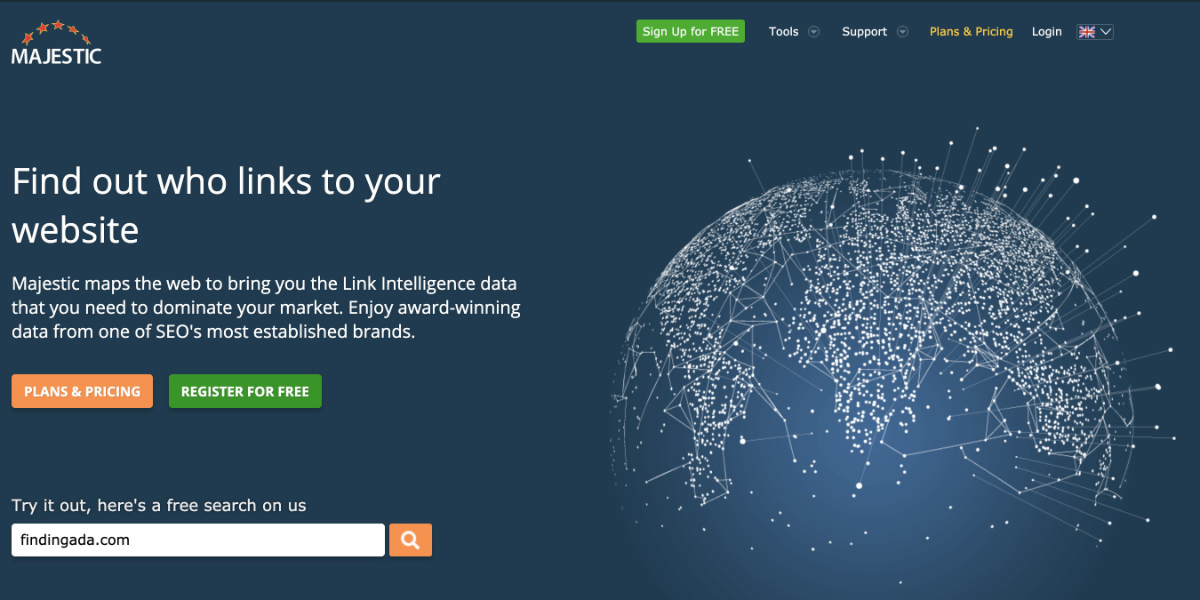 For a detailed look at the backlinks of a competitor, consider Majestic. You can find the top article on Google and discover how many backlinks it contains. That will give you an idea on how you can climb the Google results page.
Moat


Looking for the largest digital ad search engine on the planet? It's Moat. If your competitor has an ad, this tool will analyse its formats and content. Additionally, you can create an alert for new adverts from any given brand.
Fanpage Karma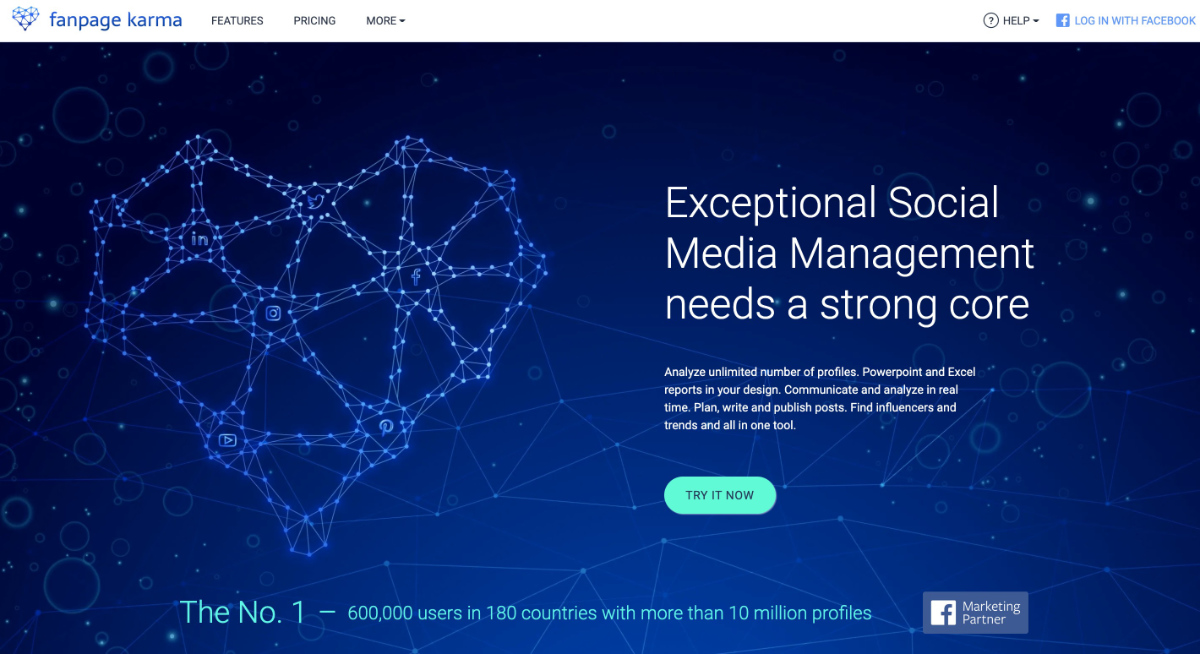 Use this tool to monitor relevant KPIs, such as weekly growth, posts per day, range per day, and the number of fans. If you want a more detailed breakdown, then you can also monitor posting frequency, influencers, ad value, and a lot more.
Bear in mind that if a business is doing badly on one social media channel, it could be the simple fact that that particular social media channel is not a central part of their strategy. Use the tool to monitor other channels and get a global understanding of a competitor.
SEMrush

Implementing a sound SEO policy goes a long way in making your business successful. SEMrush gives insights into how the competition is using SEO, and it is quite comprehensive in its reporting. Learn about payment keywords, backlinks, referring domains, landing pages, top keywords, and more. You can get all this information with the free version.
Social Mention

A lot of businesses promote themselves on social media, so it makes sense to track those platforms. Social Mention also allows you to monitor mentions made by other people about any given brand, and you can see if the tone of those mentions is positive, neutral, or negative. Dive deep into individual mentions and use that information to attract traffic to your website.
Sproutsocial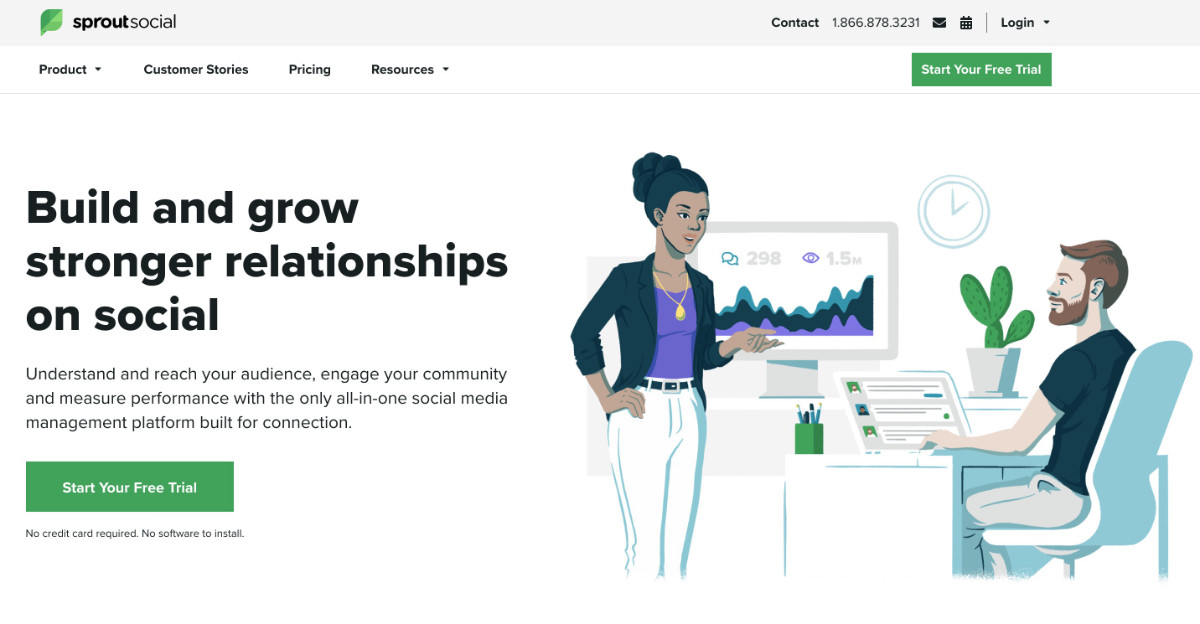 Sproutsocial allow you to monitor different channels. Use it to track a particular audience's engagement, the best and worst-performing accounts, and various KPIs.
iSpionage

This is an interesting resource because you can monitor paid campaigns. Specifically, you can track the most profitable keywords used by the competition, and how big a competitor's paid campaigns budget is, which is crucial for keeping conversions high and costs low. It also works on the basic assumption that their successful strategy can also work for you, as long as you put your own spin on the advert or campaign.
BuzzSumo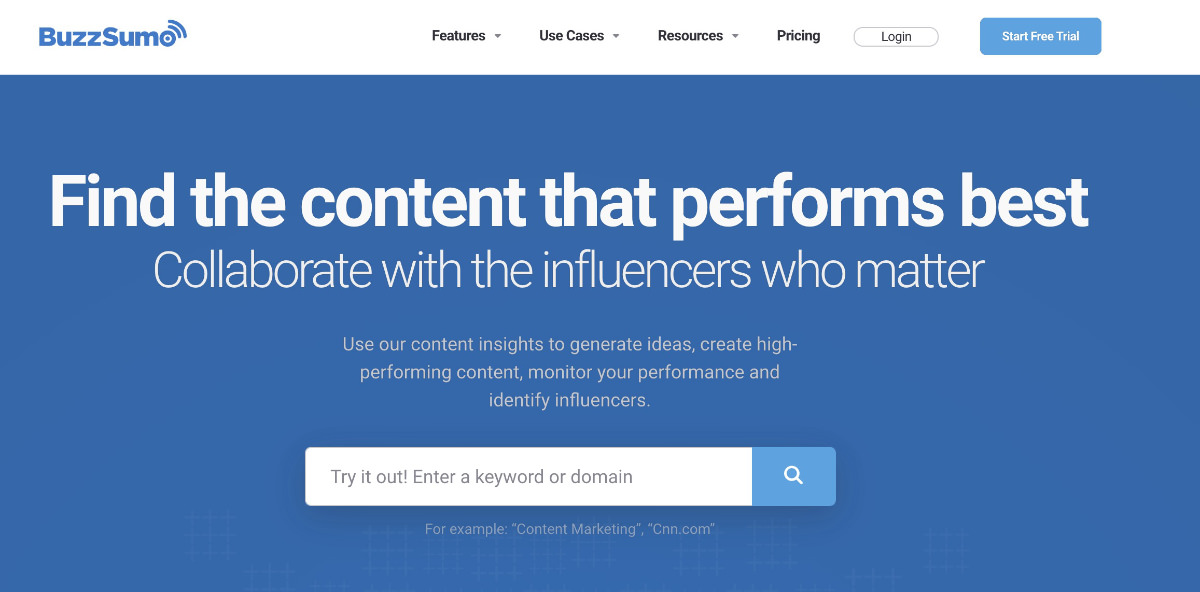 The free version of this nifty tool is limited, so sign up for the trial version. It is useful for spying on the competition, and all you have to do is enter the domain of your choice and hit the 'Go!' button. This will give you all the top-performing posts for this domain. Find what articles are useful for your business and improve them. A promotion strategy involving backlinks, which are important in SEO, is another BuzzSumo feature. This helps your business get more visibility.
Conclusion
Competition in business is fierce, so use one or more of these tools, create an action plan, and give yourself a competitive advantage.
---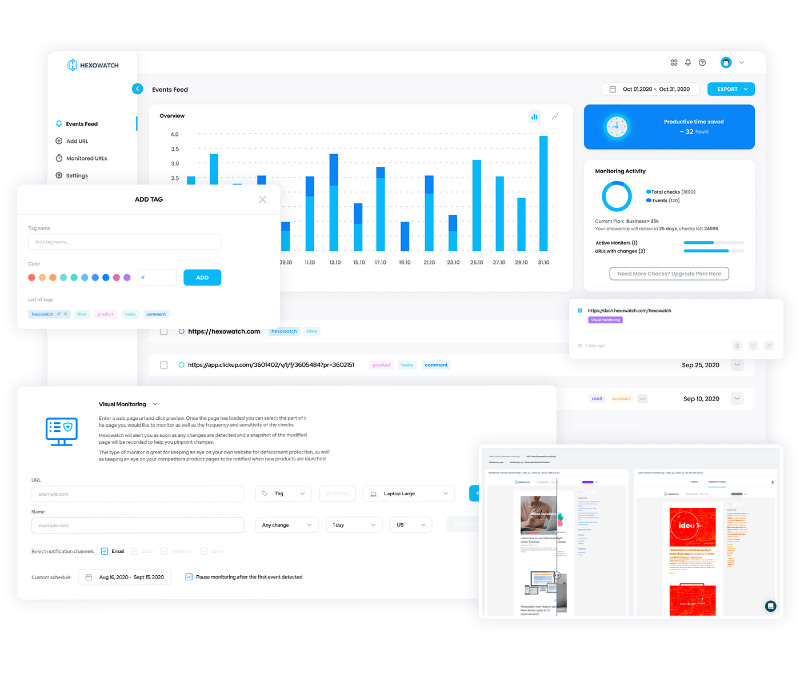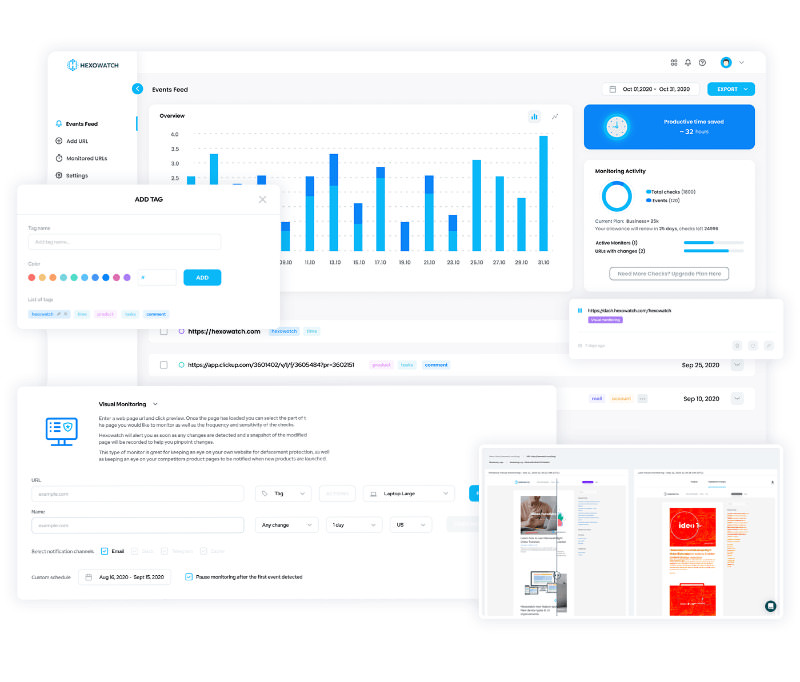 Automate page change monitoring with Hexowatch
Hexowatch is your AI sidekick to monitor any website for visual, content, source code, technology, availability, or price changes.

Hexowatch works 24/7 to help spot trends, spy on your competitors, visually check your website, keep an archive of every change and turn any website into your own private data source accessing changes as a downloadable CSV file, google sheets, or via Zapier.

Monitor any website and get started in minutes – no software, proxies, or programming required
CMO & Co-founder
Helping entrepreneurs automate and scale via growth hacking strategies.
Follow me on Twitter for life behind the scenes and my best learnings in the world of SaaS.