Did you know that there are over 2 billion websites? And while most people browsing the Web have no idea who is behind their favorite sites, every domain name on the Internet has information associated with it known as Whois information.
This information includes things like the name of the domain owner, the email address of the administrative contact, the name of the domain registrar, and the domain expiration date.
While this information is publicly available, keeping an eye on changes is time consuming and repetitive. In this tutorial we are going to show you you can get notified when something changes on autopilot, without having to check each domain manually.
What is WHOIS Monitoring?
If you want to receive instant alerts when WHOIS details change, we recommend using the Hexowatch.com WHOIS monitor.
You can get started for free in minutes, and it works 24/7 checking the registrar databases for domains you are interested in and automatically alerts you when there is a change in the WHOIS records, for example when there is a change of ownership or when a domain is about to expire.
Let's check out three powerful tactics you can deploy in minutes and run on autopilot using the Hexowatch WHOIS monitor that will save your business time and money.
1/ Get notified of any ownership changes to a registered domain
The Hexowatch WHOIS monitor can help you track the change in ownership information of any domain.

Why is this useful? Well Domain names are not static and they evolve over time. Some domains expire and get released onto the secondary market, others are sold or rented. If you're interested in buying a business, a specific domain, or you want to keep an eye on a copyright infringing domain you can monitor it and get a heads up as soon as a change occurs.
2/ Getting a notification when a domain name is about to expire:
If you own lots of different domain names, in different domain registrars keeping an eye on all the domain expiry dates can be tricky. It only takes a renewal email ending up in your spam folder or an expired credit card to lose your domain name that didn't renew.
With Hexowatch you can get advanced notifications a month or a week before the expiration date so you can renew your domains well before the deadlines.
3/ Receiving notification of expired domains that are available for public purchase:
Getting a short, premium and memorable domain name is hard. With over 2 billion websites chances are the perfect domain name might be taken already. But don't lose hope…
Hundreds of thousands of domain names expire each month, and Hexowatch can notify you as soon as a particular domain is about to expire so you can snap it up before anyone else does.
Walkthrough: How to Monitor any Domain With the Hexowatch WHOIS Monitor?
So to get started, you will just need to drag-n-drop the How-to Schema block in the Gutenberg editor. The How-to Schema block can be used on pages that contain a How-to in their title and describe steps to achieve certain requirements.
Total Time Needed :
5
Minutes
Monitoring any domain name for whois changes with Hexowatch is very simple. Once you've signed up for a free Hexowatch account, follow the steps below:
---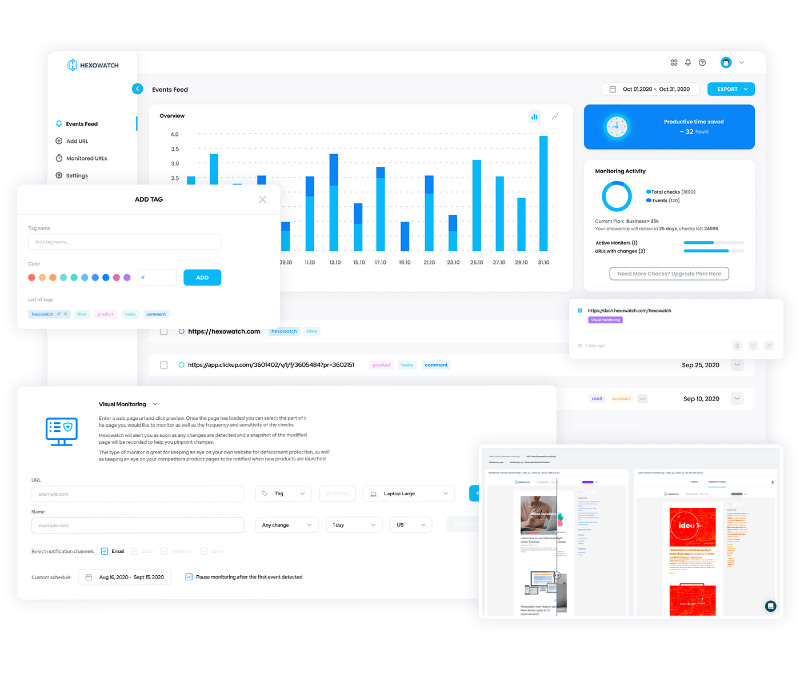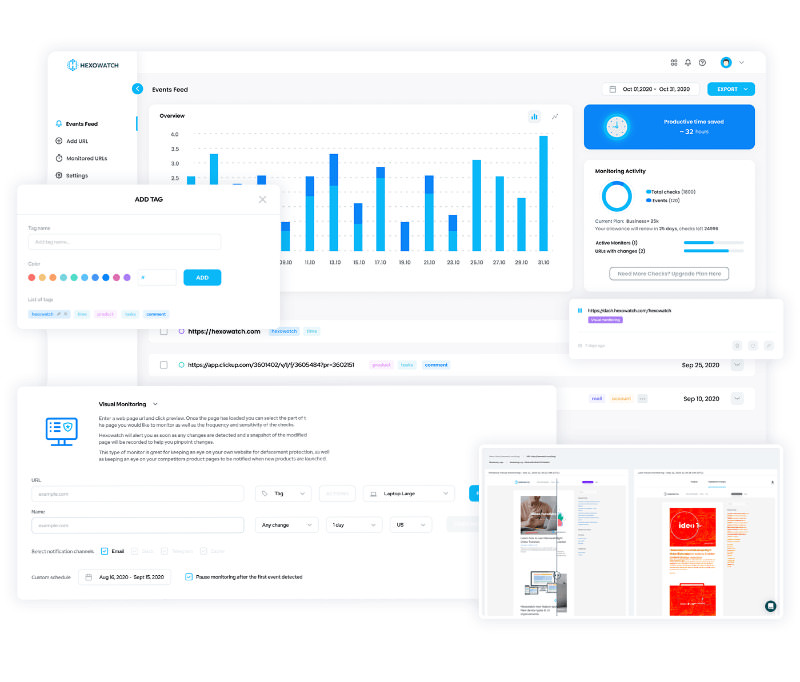 Automate page change monitoring with Hexowatch
Hexowatch is your AI sidekick to monitor any website for visual, content, source code, technology, availability, or price changes.

Hexowatch works 24/7 to help spot trends, spy on your competitors, visually check your website, keep an archive of every change and turn any website into your own private data source accessing changes as a downloadable CSV file, google sheets, or via Zapier.

Monitor any website and get started in minutes – no software, proxies, or programming required
CMO & Co-founder
Helping entrepreneurs automate and scale via growth hacking strategies.
Follow me on Twitter for life behind the scenes and my best learnings in the world of SaaS.