PlayStation 5 (PS5) is a breakthrough video game console that Sony Interactive Entertainment developed in 2020.
On the modern gaming stage, the so-called Queen of all Performances is an extraordinary piece of technology well worth its price. It is a feat in today's ever-competitive society, where companies try to innovate more and more.
Despite tough competition with the Xbox series X, the PS5 is the world's fastest-selling console. Millions of units were shipped a month after the official release of the console.
The only problem is getting hold of a console… Because of the chip shortage and factories closing because of COVID-19 most retailers are out of stock.
In this short tutorial, we will show you how you can skip the queues and get alerts as soon as the console goes back in stock at your favorite retailer so you can be one of the first to purchase when they receive new stock.
Video made by Invideo
How to set up a PS5 stock checker alert using Hexowatch
To get started, head over to https://hexowatch.com to create a free account.

Next, make a list of your favorite retailers and their product listing for the PS5. For example:

https://www.gamestop.com/consoles-hardware/playstation-5/products/playstation-5/232353.html

https://www.bestbuy.com/site/sony-playstation-5-console/6426149.p?skuId=6426149

etc…
We recommend you keep an eye on the pages of the most trusted retailers.

Then, go to the Hexowatch dashboard.
Step 1: Choose your preferred monitor
Go to the Hexowatch dashboard and from the monitors' list, choose the one that is the best fit for you. Here, we will choose the Visual monitor, which checks pages for any visual changes.
Or you can also use the HTML element monitor if you want to monitor the availability message on the page.
You can choose to monitor single or bulk URLs.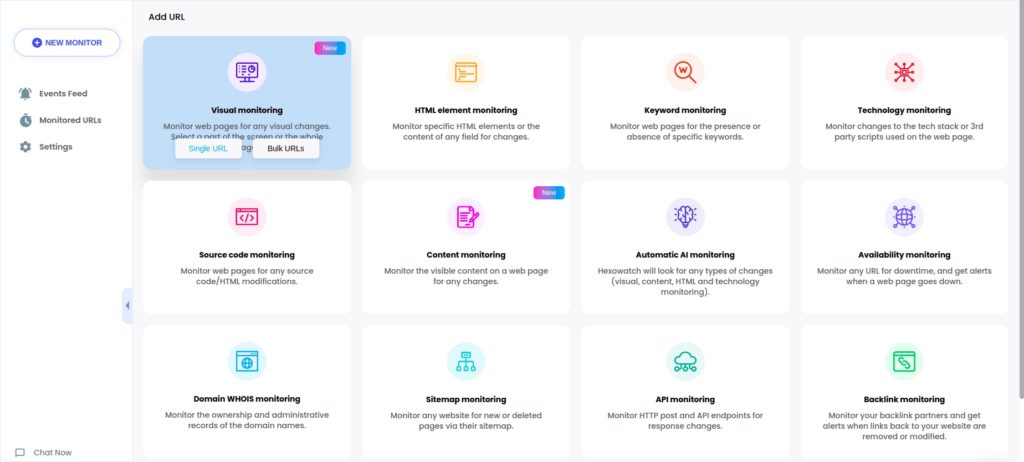 Step 2: Add the URL
Add the previously captured product page URL.
Click Preview. Then, set the type of changes to monitor and the frequency of checks (we recommend a minimum of every 12 hours or less).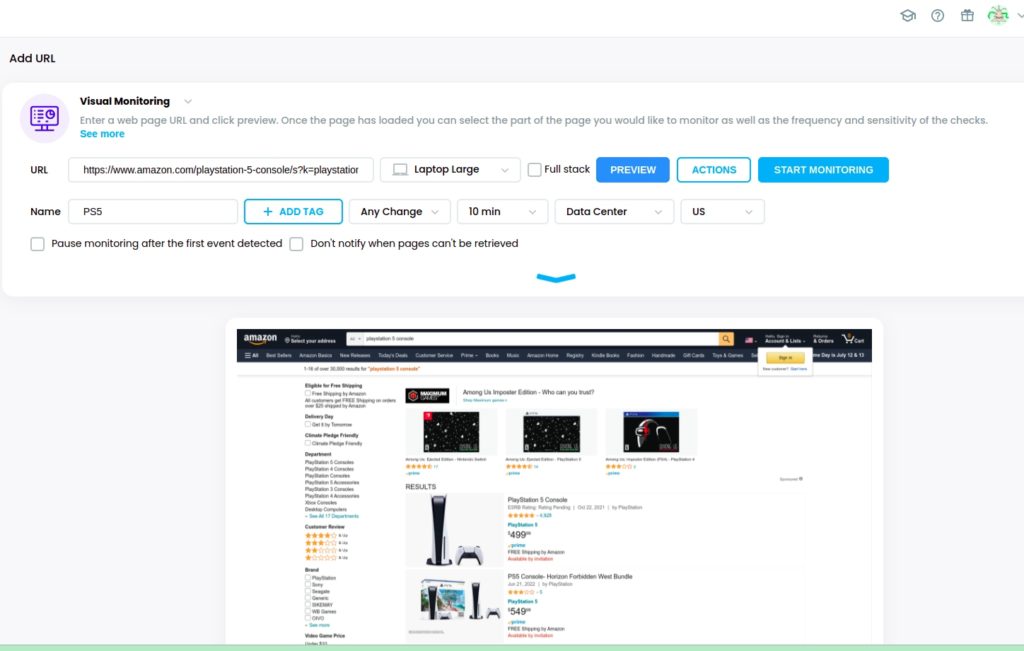 You have the option to select your most preferred notification channels (Email, Slack, Discord, Telegram, Zapier, Microsoft Teams, Browser Notifications) to get instant notifications when changes are detected. Before selecting the channel, be sure to have it integrated into your Hexowatch account.
Additionally, you can select custom scheduling options.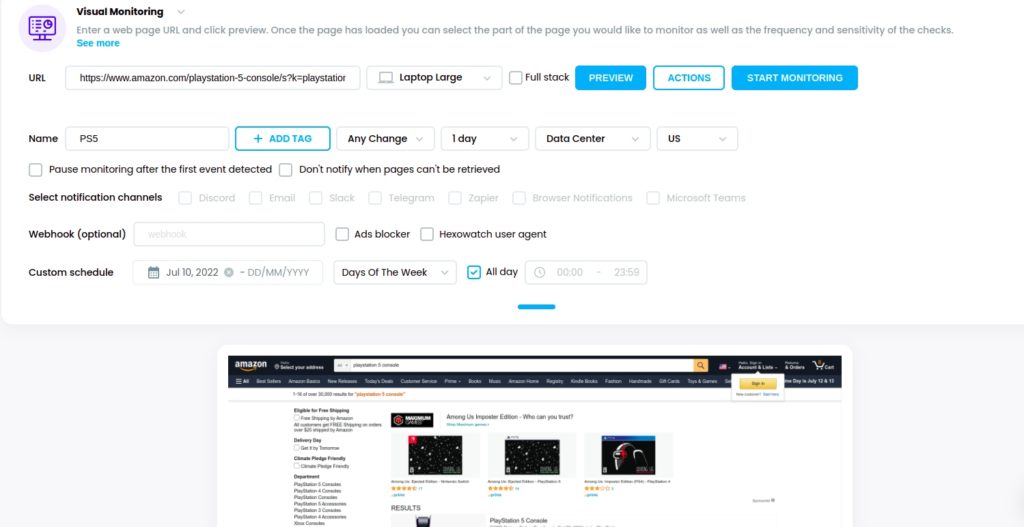 After filling in all the required information, click Start Monitoring.
Step 3: View the detected changes
Once the Visual monitor detects a change, you will be notified via your selected channel so you can be one of the first to purchase your console as soon as the retailer receives more stock.

On your monitored URLs page, you can find all the changes and can export them to Google sheets for a more detailed view and analysis.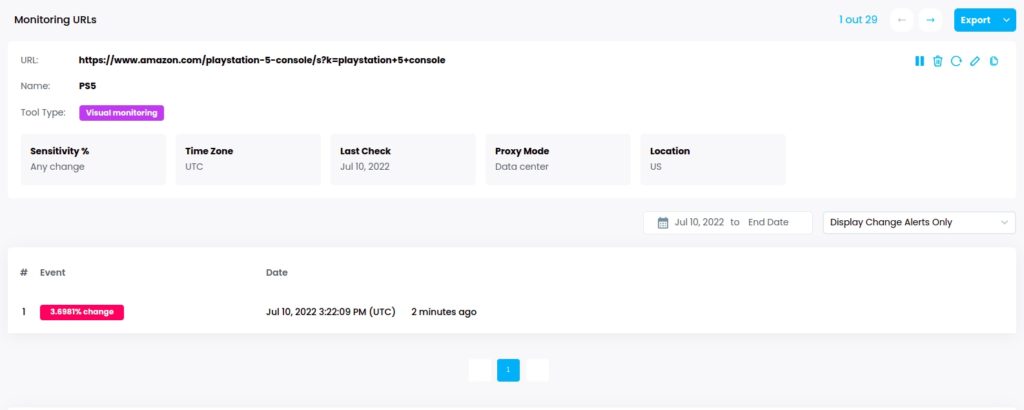 This way, you will be able both check the page for stock opportunities, price changes, and more.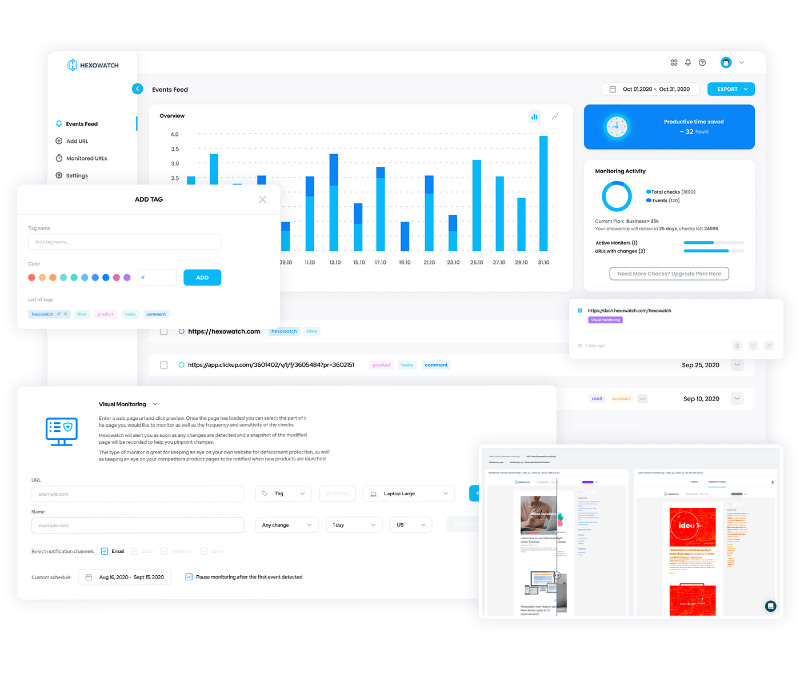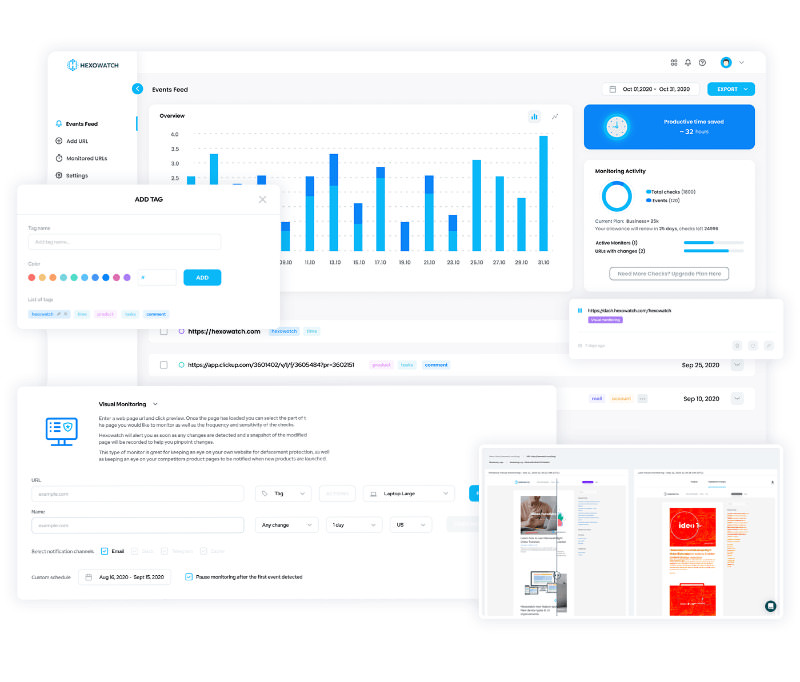 Marketing Specialist | Content Writer
Experienced in SaaS content writing, helps customers to automate time-consuming tasks and solve complex scraping cases with step-by-step tutorials and in depth-articles.
Follow me on Linkedin for more SaaS content