Before making any purchase, people research and compare product specifications and prices online.
You may have the best service or reputation, but if a customer finds a cheaper deal there is a big risk of losing that sale, even for a few cents.
Today we will be reviewing the best price monitoring tools you can use to keep an eye on your competitors' prices so you can be notified when price drops are detected so you can have the most competitive offers and keep track of your market.
But, first, let's understand what price monitoring is and how price monitoring tools work.
What is Price Monitoring?
Let's start with the basics, what is price monitoring? Essentially these platforms enable you to specify your competitors' product pages and check on a monthly, weekly, daily, hourly, or even down to every 5 minutes the prices for any changes.

When a change is detected you can receive an alert, trigger a webhook response or simply archive the changes for review.
Why use Price Monitoring Tools?
Have you ever tried to conduct manual price monitoring? Never do that.
Here is why.
Manual price monitoring is tortuous, time-consuming, and may not yield the desired results. You need to check hundreds of websites constantly to be able to detect any essential changes.
Using a competitive price monitoring software makes it easier to conduct both internal and external market analysis and build your pricing strategy.
For internal research, you can reflect the market strategy by monitoring your pricing history. Price monitoring can assist in making the right pricing strategy and maximizing profits, along with product rotation and brand value.
Pricing monitoring tools are irreplaceable for external market analysis as well. You will be able to determine your market positioning based on collected information, such as product-price ratios and target groups.
Using price monitoring tools is simple and most tools don't require any coding or technical background.
Below, I will list some of the best and most convenient price monitoring tools you can use for your research.
#1 Hexowatch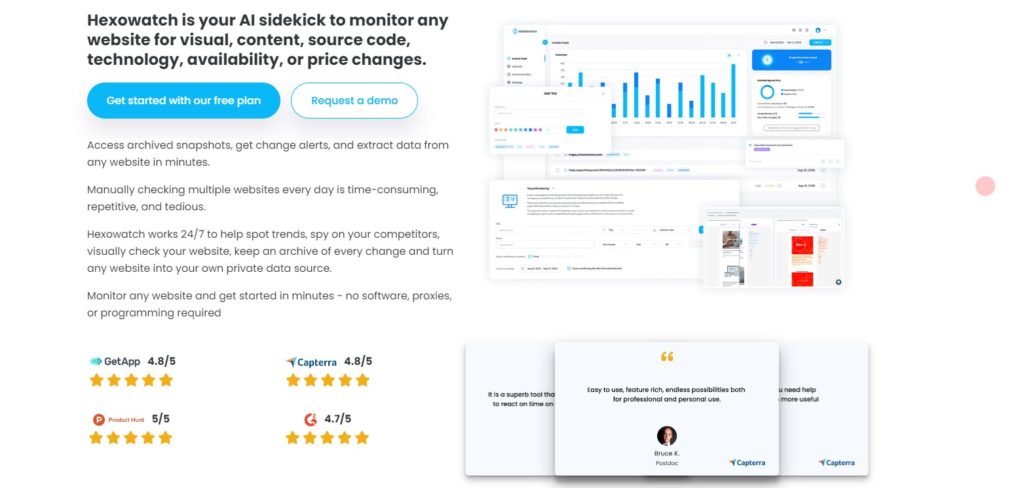 Hexowatch monitors websites and alerts businesses about detected changes using artificial intelligence (AI) technology.
Hexowatch provides 13 different monitoring options based on any objective. For price monitoring, it is ideal to use the Visual monitor, HTML monitor, or Keyword monitor.
Pricing plans start from $12.49 a month. Additionally, you can use the forever Free plan with more limited monitoring options.
The interface is point-and-click. You just need to add the website URL, add specifications and start monitoring.
#2 Prisync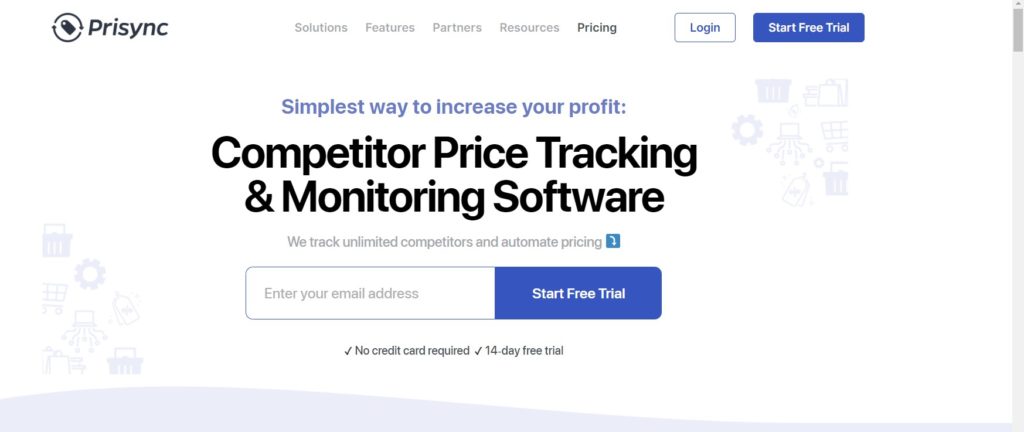 Prisync is specialized in competitor price monitoring and tracking.
In addition to price checking and scraping, Prisync also supports price matching, MAP monitoring, dynamic pricing, price management, price watching, and repricing.
The pricing plans start from $99 per month. The tool also offers a 14-day free plan.
#3 Dealavo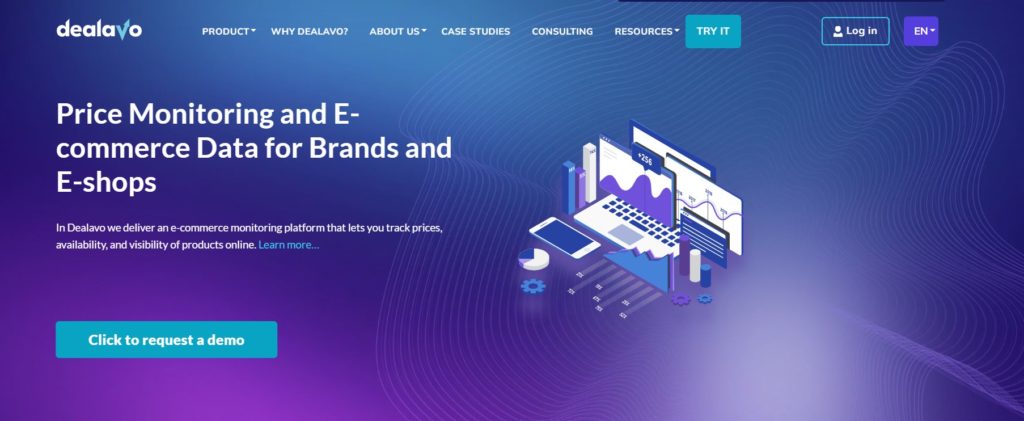 Dealavo is a famous and quite useful ecommerce price monitoring tool, allowing one to track prices, availability, visibility of products online, and more.
Pricing plans vary and are available upon request. Also includes a free trial.
#4 PriceGrid

PriceGrid is another trusted and useful price monitoring software that helps to simplify price monitoring and analysis.
This tool is super fast, detecting and researching prices in seconds.
Pricing plans start from $49 a month. The only drawback is that this tool doesn't provide a free trial option.
#5 Competera Pricing Platform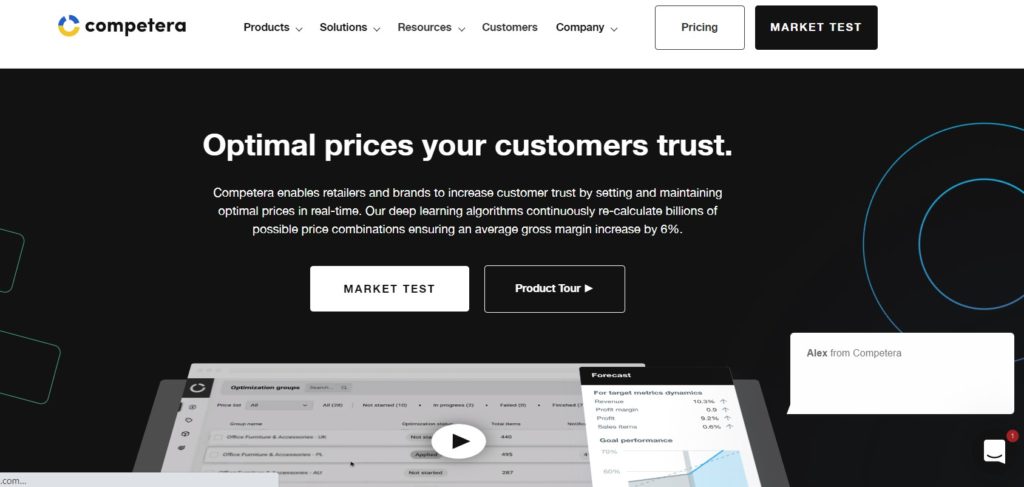 Competera is another AI-driven price monitoring platform.
Multiple Competera products are readily available for use, such as Competitive Data and Pricing Automation. The software is said to lack more in-depth statistics on the data it delivers as one of its disadvantages. 
Pricing plans are available only upon request.
#6 Feedvisor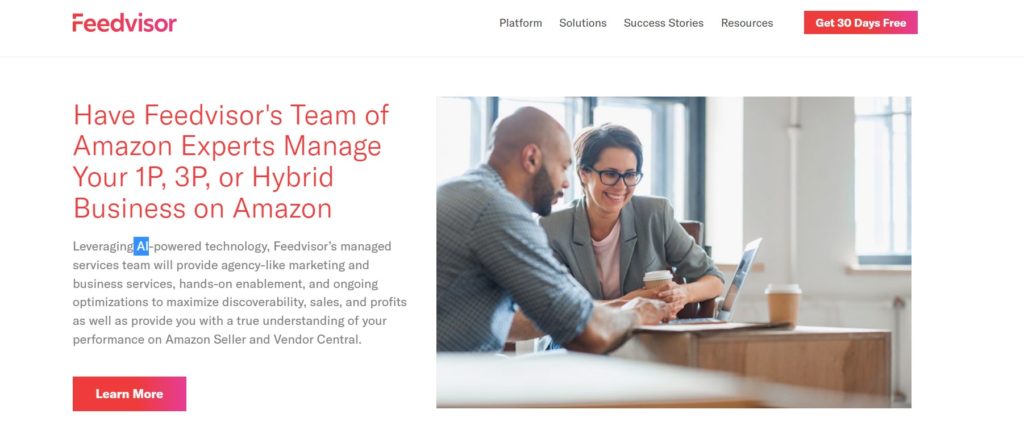 Feedvisor is a famous platform that provides optimization when it comes to Amazon or Walmart. With AI-powered technology, it offers marketing and business services and optimization to maximize sales and performance. A number of languages are supported by Feedvisor, including English, French, Hebrew, and German.
Pricing plans are available only upon request.
#7 Skuuudle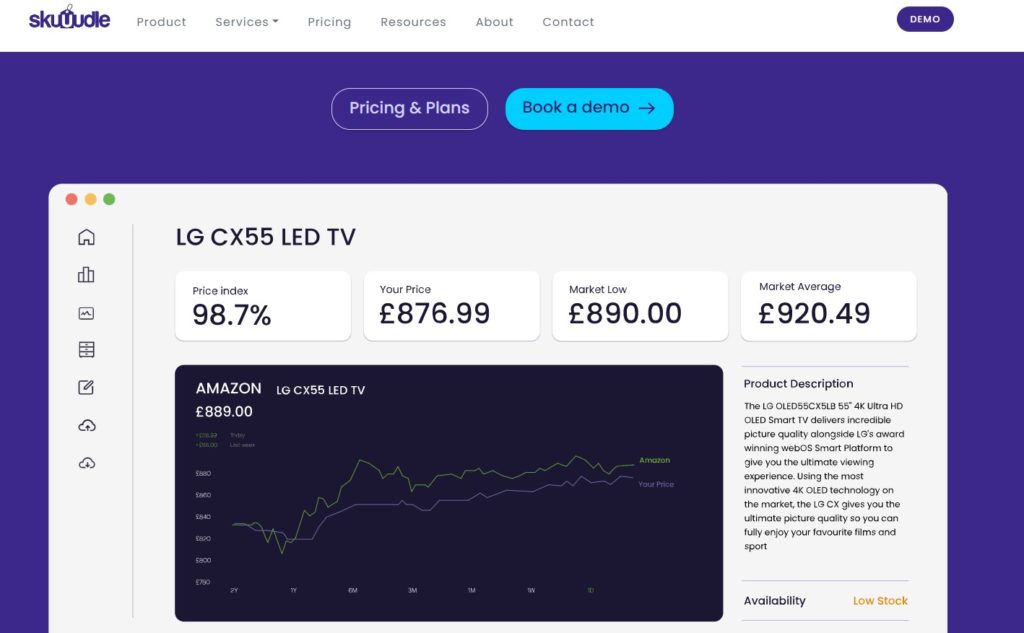 Skuudle is a cloud-based tool to use for competitive price monitoring. This tool is a great fit both for small businesses and large enterprises and especially for eCommerce businesses.
Skuudle offers a range of services such as Data collection, Product matching, Quality control, etc.
Pricing plans start from £299,9 per month.
#8 PriceLabs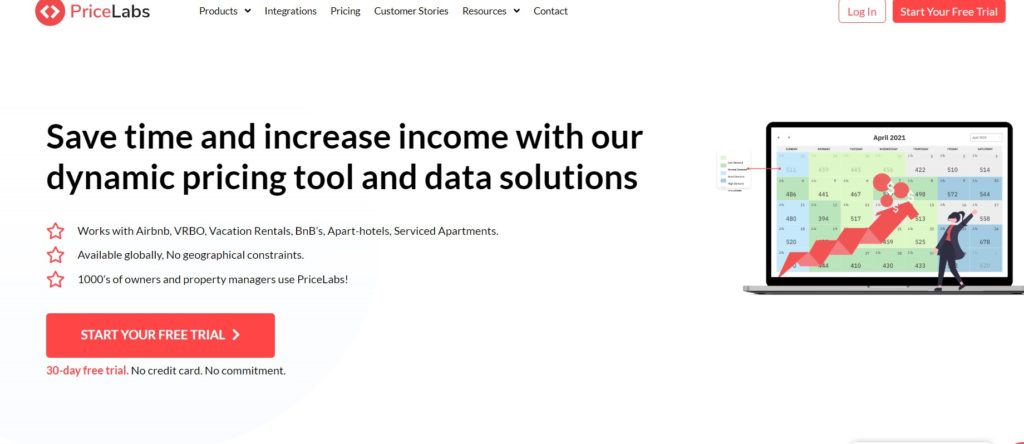 PriceLabs is a super-useful platform, offering solutions both for retailers and brands. Among its most practical features are price monitoring, dynamic pricing, data analysis, etc. Brands can also use its MAP & MRSP e-commerce monitoring as well as distribution channel monitoring.
Pricing plans are available only upon request. Additionally, you can use a 30-day free plan.
#9 PriceManager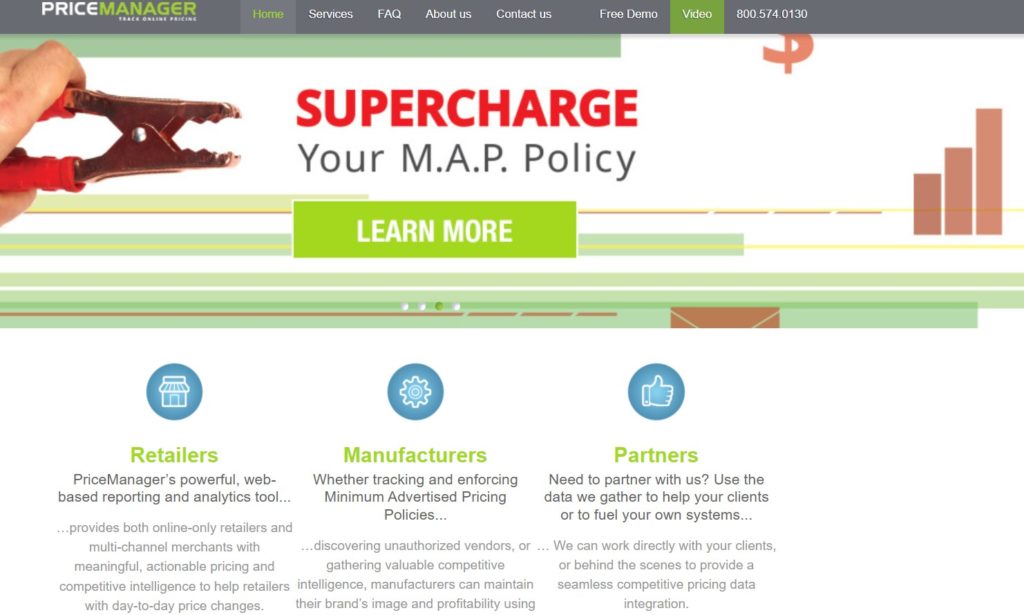 PriceManager is an ideal competitor price monitoring tool for brands, retailers, and even manufacturers to keep up with the competition in their markets.
This tool allows getting insights into the competitors and implementing a proper pricing strategy to leverage businesses.
Pricing plans are available only upon request. The tool offers a free demo version upon request.
#10 PricingHub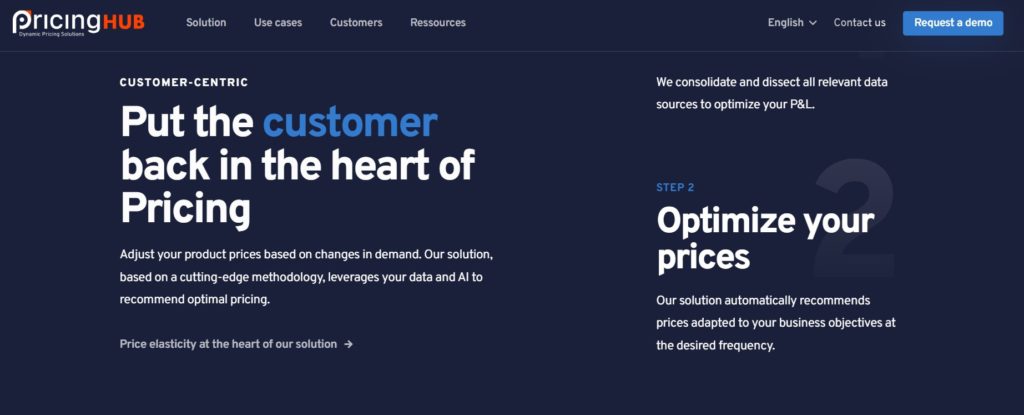 PricingHub is an all-in-one solution for unleashing the power of pricing. This tool implements AB testing as an experimental technology. Another advantage f the tool is that it suggests prices adapted to any business objectives.
Pricing plans are available only upon request.
#11 Repricer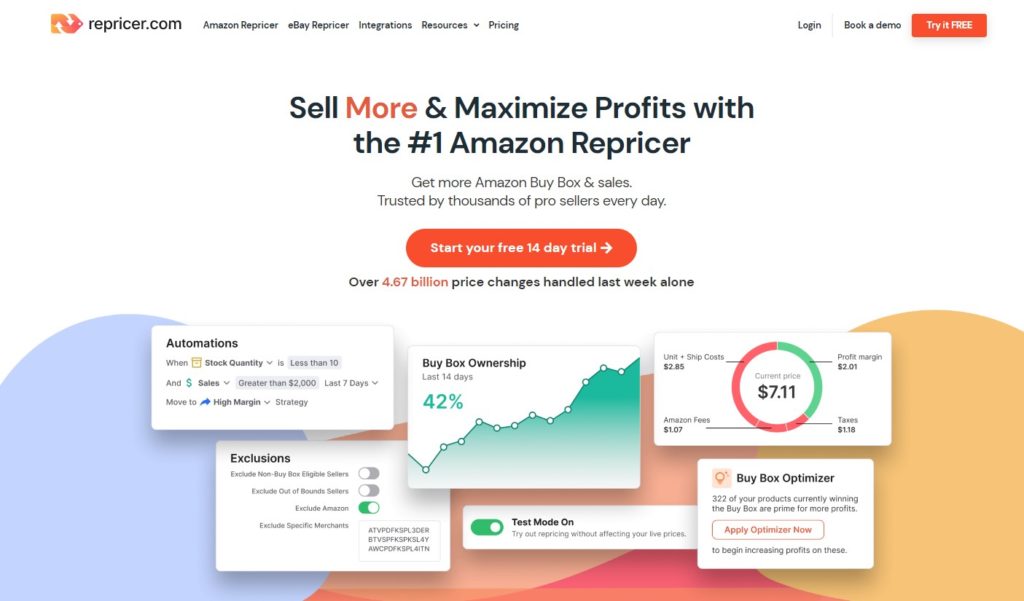 If you are interested in Amazon and price monitoring, you may have already heard about Repricer. It is a simple and useful price monitoring tool that is focused on Amazon repricing, supporting 18 international Amazon marketplaces.
The pricing plans start from $69 per month. A free trial version is available for 14 days.
#12 Minderest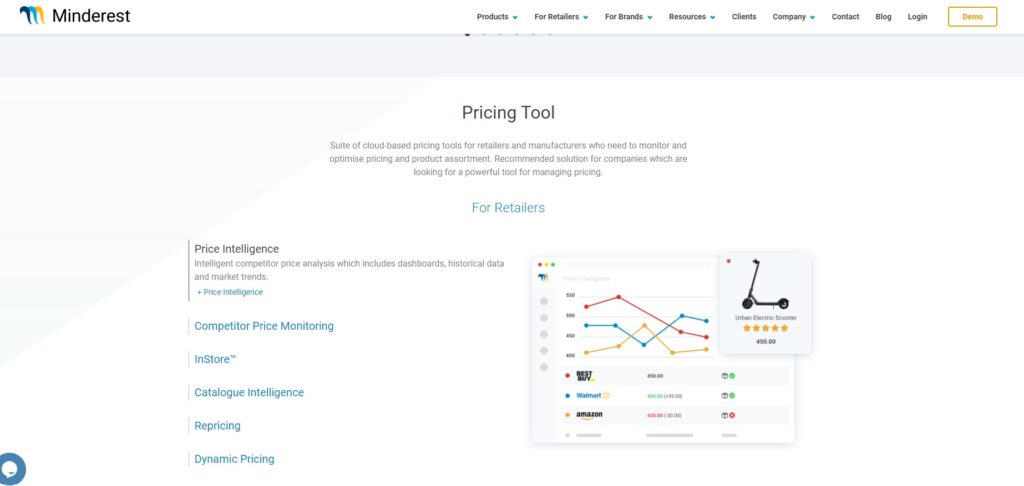 Minderest is a simple cloud-based price monitoring tool aimed at both small startups and large companies.
Pricing plans are available only upon request. A free trial version is available upon request.
#13 Mozenda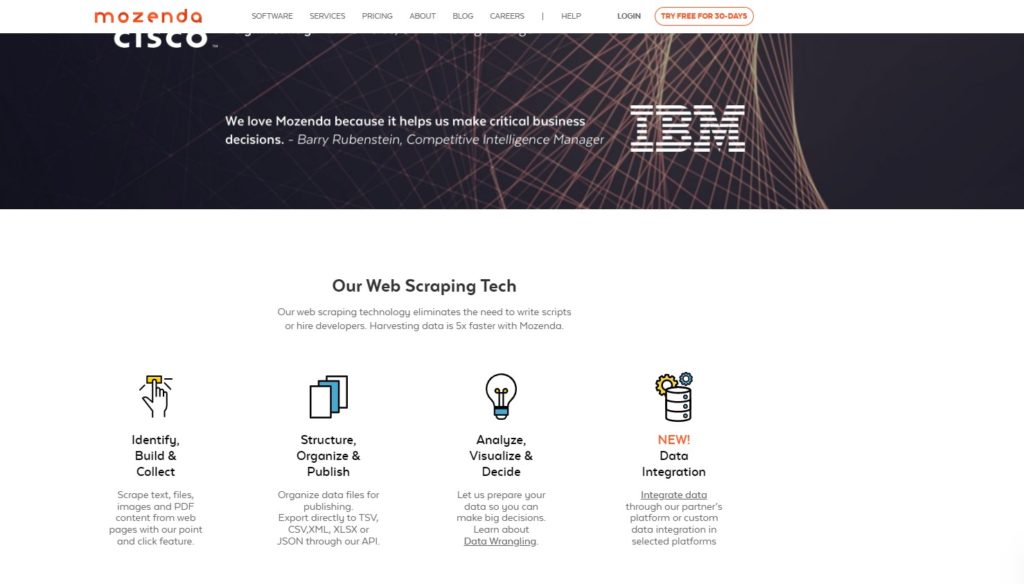 Mozenda is a web scraping and price monitoring tool trusted by thousands of businesses.
It enables copying images and texts from the web but you need to get the pricing information yourself.
Pricing plans start from $250. A free trial version is available for 30 days.
#14 Price2Spy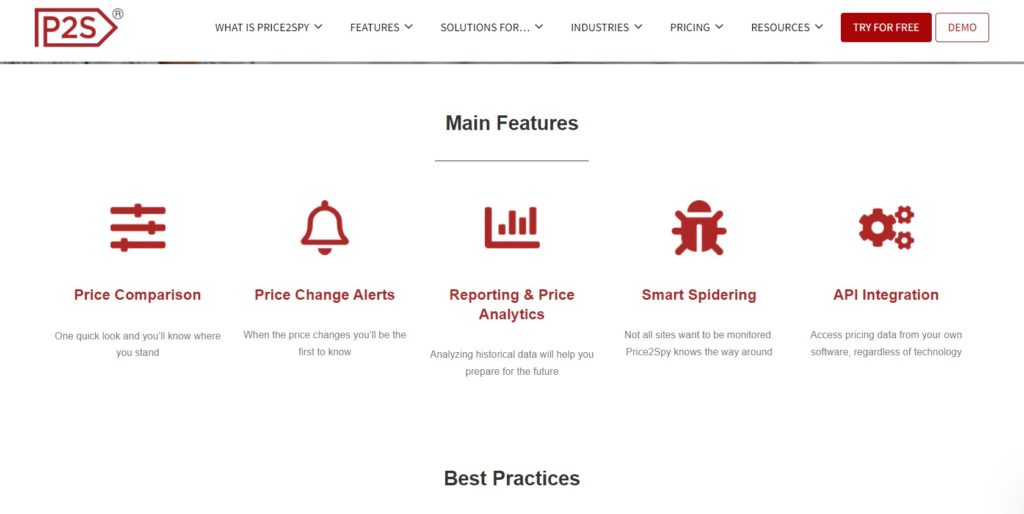 Price2Spy is a simple online price monitoring tool ideal for eCommerce businesses. Among the most popular features are price monitoring, price change alerts, price analytics, and reporting.
Pricing plans start from $19,95 per month. A free trial version is available for 30 days.
#15 PROS
In this article, I highlighted the 15 best and most famous price monitoring tools to help you take your pricing strategy to the next level and boost your sales X10.
If you hesitate about where to start and which tool to use, you can start with a free trial version. Most of the tools above offer a free version, then upgrade according to your business needs.
Happy price monitoring.
---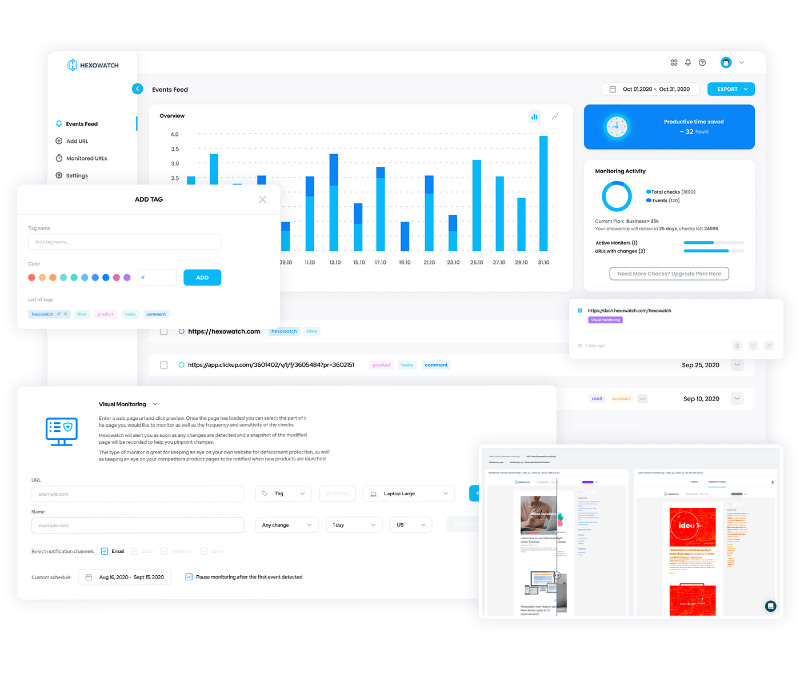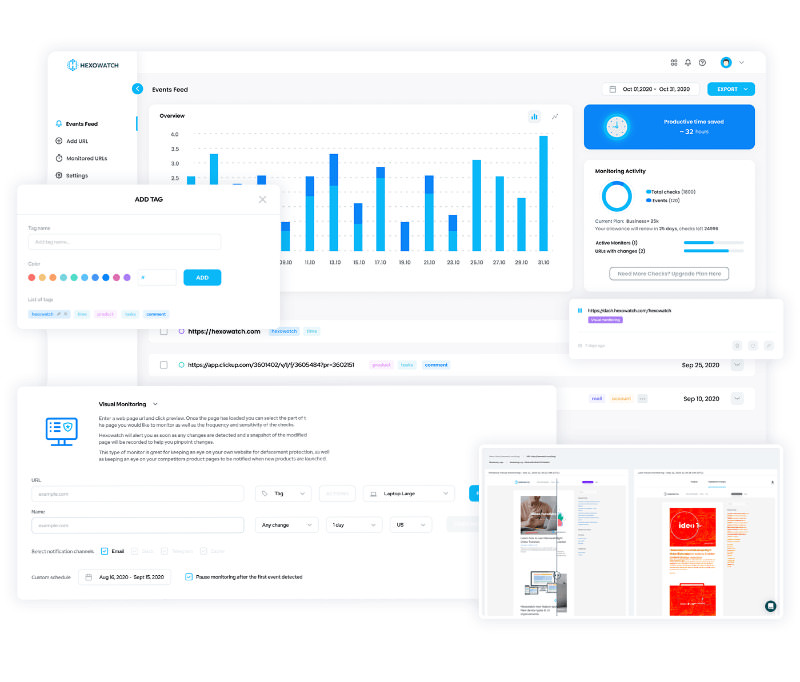 Automate page change monitoring with Hexowatch
Hexowatch is your AI sidekick to monitor any website for visual, content, source code, technology, availability, or price changes.

Hexowatch works 24/7 to help spot trends, spy on your competitors, visually check your website, keep an archive of every change and turn any website into your own private data source accessing changes as a downloadable CSV file, google sheets, or via Zapier.

Monitor any website and get started in minutes – no software, proxies, or programming required
Marketing Specialist | Content Writer
Experienced in SaaS content writing, helps customers to automate time-consuming tasks and solve complex scraping cases with step-by-step tutorials and in depth-articles.
Follow me on Linkedin for more SaaS content