Website defacement is a type of cyberattack that involves changing how a page looks often bragging about an intrusion. With over 30,000 websites hacked every single day, this is something you definitely want to keep an eye on to protect your website and its reputation.
But what exactly is website defacement and how can you prevent or at least get notified as soon as something goes wrong? In this article, we will breakdown exactly that so keep reading!

What is Website Defacement?
Any cyberattack that changes your website's visual outlook or a particular web page is known as website defacement. Defacing a website means an intrusion happened and the attackers can now change the images and text that are present on the website.
The best way to prevent website defacement is to continually keep your website up to date, employing security measures such as firewalls as well as continually auditing your websites for potential security issues or changes.
In this article we will cover two different types of services you can use to monitor your websites for potential security issues and get alerts as soon as changes are detected.
Hexometer

Whilst traditional uptime monitoring platforms inform when a website is down, Hexometer works 24/7 monitoring your website for availability, performance, user experience, health, seo and security issues.
How does Hexometer work?
Hexometer is cloud based and continually monitors your website for broken links, bad mobile experiences, performance, spelling mistakes, SEO problems and most importantly it performs daily security assessments including: Checking your homepage for known malware, assessing your security headers, SSL as well as checking your IP address in different industry IP blacklist services.
Why Do You Need Hexometer?
The most expensive problems are the ones which go un-noticed, wasting your ad budget and eroding your brand trust.
Hexometer works like your very own QA testing team, continually checking your entire website for problems before they impact your visitors.
It also provides real-time notifications through the channels you currently use including email, Slack, Telegram, Trello, and SMS.
Moreover, Hexometer works via the cloud, so there is no need to install any software or make any code changes to start monitoring websites.
Hexowatch

Manually checking websites is tedious and time consuming. Hexowatch works like your very own virtual assistant and can let you know if any visual, content, keyword, source code, technology or even WHOIS changes are detected. Perfect for catching website defacement as soon as possible.
What Is Hexowatch?
Hexowatch is a powerful monitoring tool that works like your own virtual reconnaissance drone. It can monitor any website 24/7 and keeps an eye out for different types of changes alerting you via email, Telegram, Slack or a wide range of integrations.
You can access old snapshots, observe the changes, extract any data from the website within minutes, and get immediate alerts regarding any change. The best part is that it does not require any installation and no programming.
Important Features
Hexowatch provides you with "nine" different monitoring options to cater for a wide range of needs. These monitoring options include Visual monitoring, HTML element monitoring, Keyword Monitoring, Technology Monitoring, HTML Monitoring, Content Monitoring, Automatic AI Monitoring, Availability Monitoring, Domain WHOIS Monitoring and AI monitoring.
When Hexowatch detects even a small change, it provides a complete change report with all the required details and includes snapshots of the page before and after the change was made on the page.

---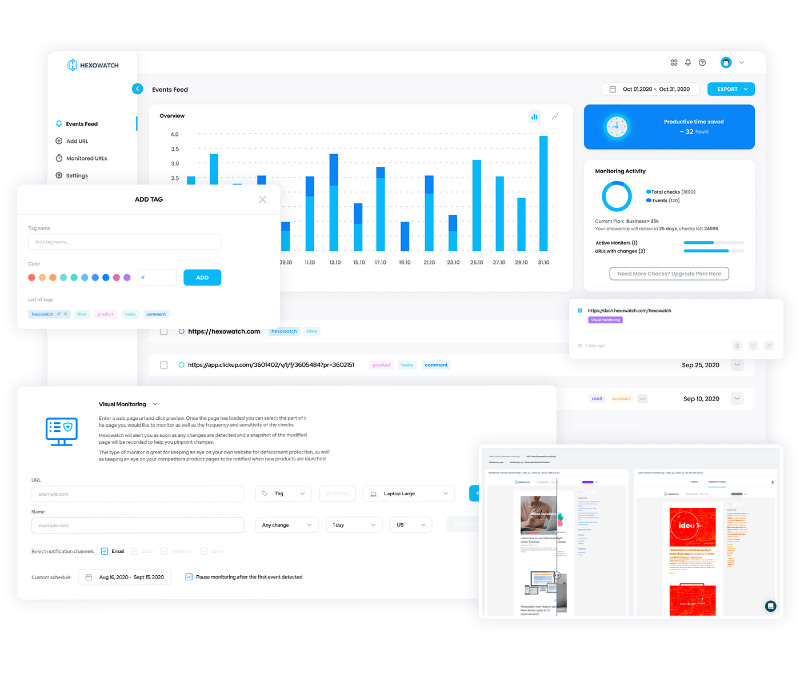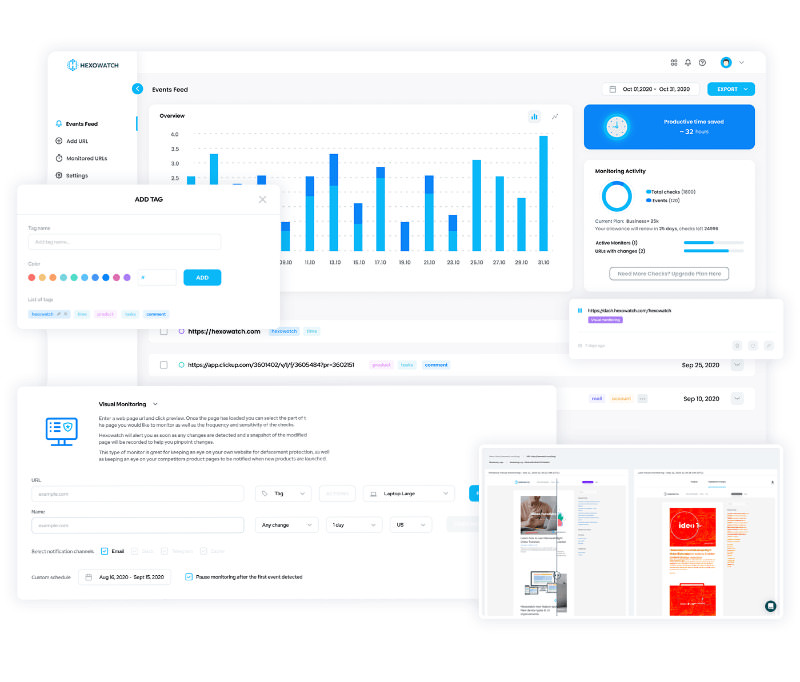 Automate page change monitoring with Hexowatch
Hexowatch is your AI sidekick to monitor any website for visual, content, source code, technology, availability, or price changes.

Hexowatch works 24/7 to help spot trends, spy on your competitors, visually check your website, keep an archive of every change and turn any website into your own private data source accessing changes as a downloadable CSV file, google sheets, or via Zapier.

Monitor any website and get started in minutes – no software, proxies, or programming required
CMO & Co-founder
Helping entrepreneurs automate and scale via growth hacking strategies.
Follow me on Twitter for life behind the scenes and my best learnings in the world of SaaS.