Minimum advertised pricing (MAP) monitoring is the strategy used by brands for ensuring that their MAP policy is being adhered to by resellers and retailers.
The MAP policy establishes the least amount of money that sellers may show as a public price for the brand. Manufacturers and brands need to monitor individual retailers, marketplaces, and price comparison sites regularly to make sure that prices do not drop under the authorized limit. If this occurs, brands need to communicate with the retailer to uphold the MAP policy.
MAP monitoring is a crucial process as it helps to protect price margins, establish brands' relations with retailers and resellers, and maintain brand identity.
Retailers who value their partnership with brands understand the importance of respecting pricing policies.
Unfortunately, not all sellers share this same mindset; some may even attempt to disregard certain pricing protocols in order to see what they can get away with.
Hence, MAP monitoring should not be a periodic activity but a continuous process.
Resellers change their prices constantly, so you have to constantly be on the lookout.
Automating MAP monitoring with Hexowatch
Change monitoring tools like Hexowatch are designed for MAP monitoring and generally keeping track of any website changes and sending instant alerts.
Hexowatch has 13 monitors that allow you to keep track of any changes on websites including visual changes, HTML element changes, tech stack changes, and many more. 
Hexowatch can monitor any web page down to every 5 minutes and tracks large numbers of websites across a ton of online shops and marketplaces and other websites.
For conducting MAP monitoring it is ideal to use the Hexowatch HTML element monitoring to track prices and get instant price change alerts.
To get started, you need to have a Hexowatch.com account.
How to automate MAP monitoring with the HTML Element Monitor
The HTML Element Monitor of Hexowatch enables tracking of fields on a web page. It allows you to select your desired conditions and notifies you instantly about the changes detected via your preferred notification channels.
If you already have a Hexowatch account, follow to steps below to get things done.
Step 1: Capture the desired product page on the retailer's website
Go to the retailer's website and capture the targeted product page URL.
For example,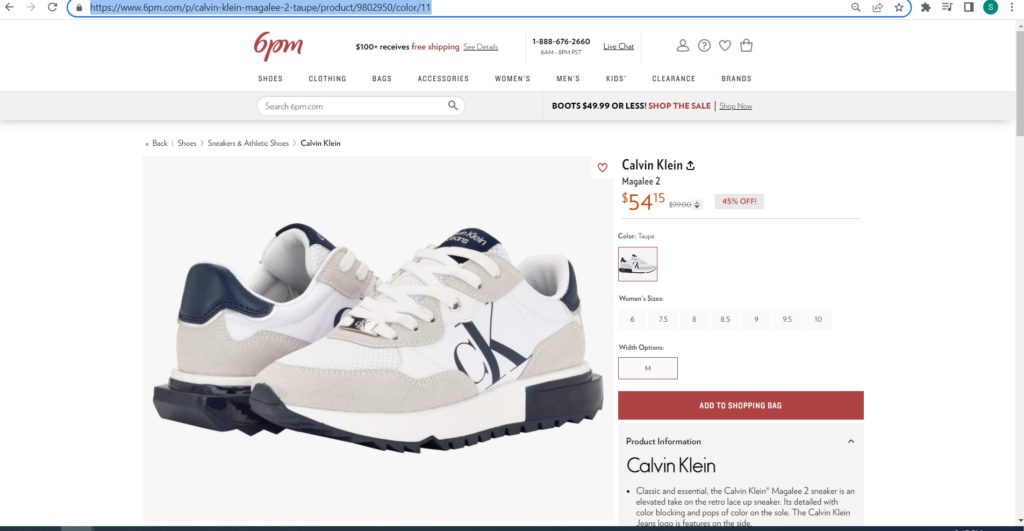 Step 2: Select the Hexowatch HTML Element Monitor
Go to your Hexowatch.com dashboard, click New Monitor and from the monitors' list, select HTML monitoring.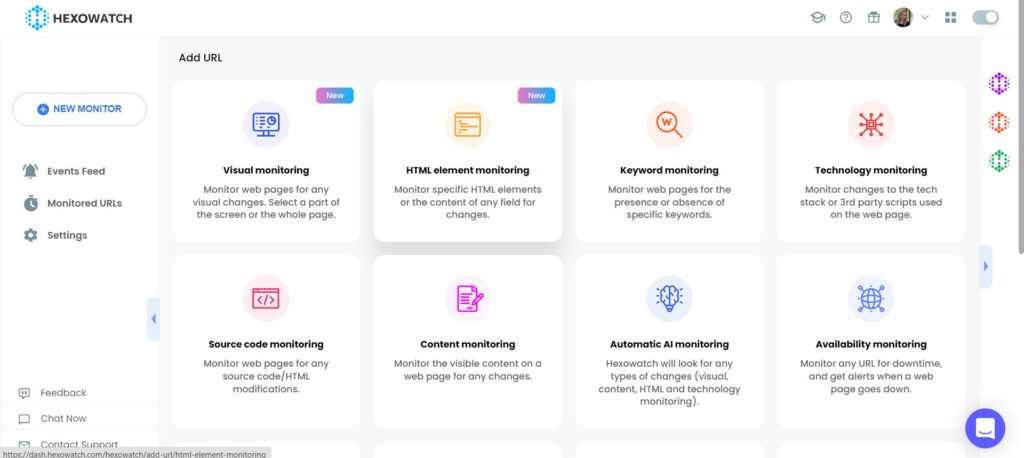 Step 3: Insert the captured product page URL in Hexowatch
Next, insert the previously captured product page URL in Hexowatch and click Preview.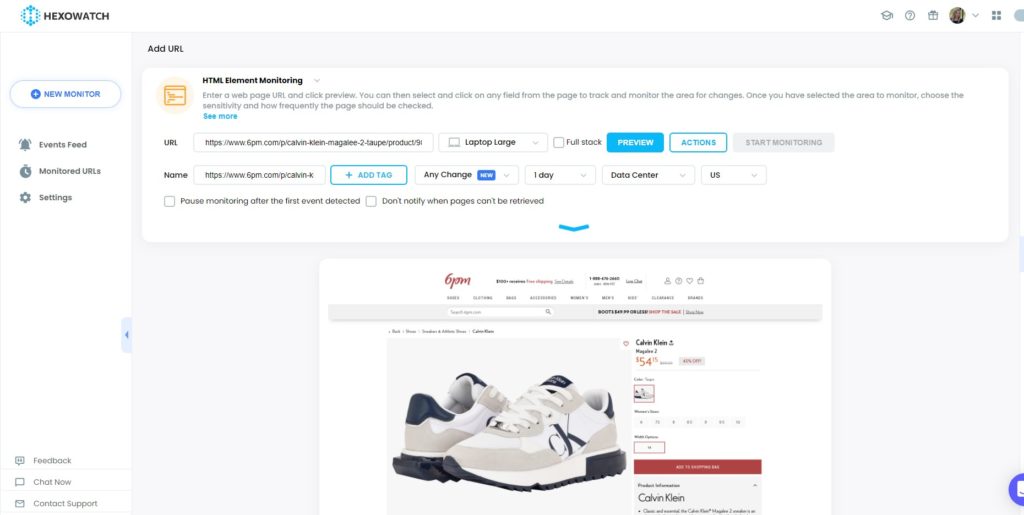 Step 4: Start Monitoring
Once the page has loaded, you can select and click on any field from the page to track and monitor the area for changes.
Once you have selected the area to monitor, choose the sensitivity and how frequently the page should be checked.
In this case, we are going to select the price element to conduct MAP monitoring.
So, we will select the price element and click Show element HTML code.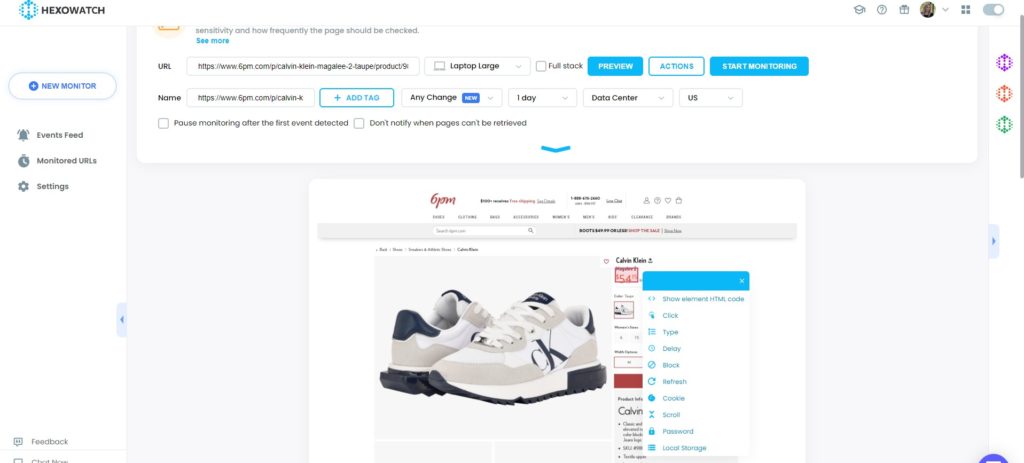 Then, choose the Select with Conditions option.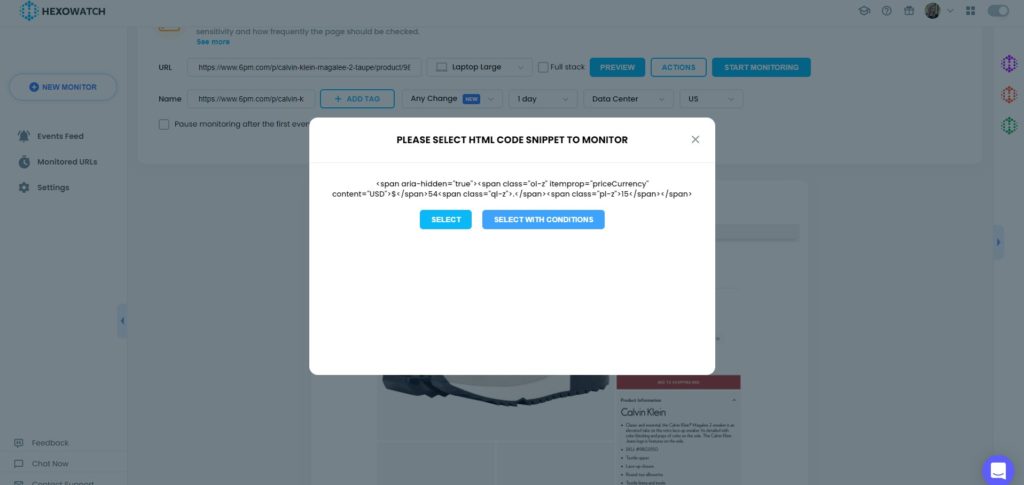 Let's specify the conditions for monitoring. So, choose the current price, then select the "Less than condition. And, in the last field, set the authorized limit for the price. In this way, you will receive alerts any time the retailer drops the price under the limit.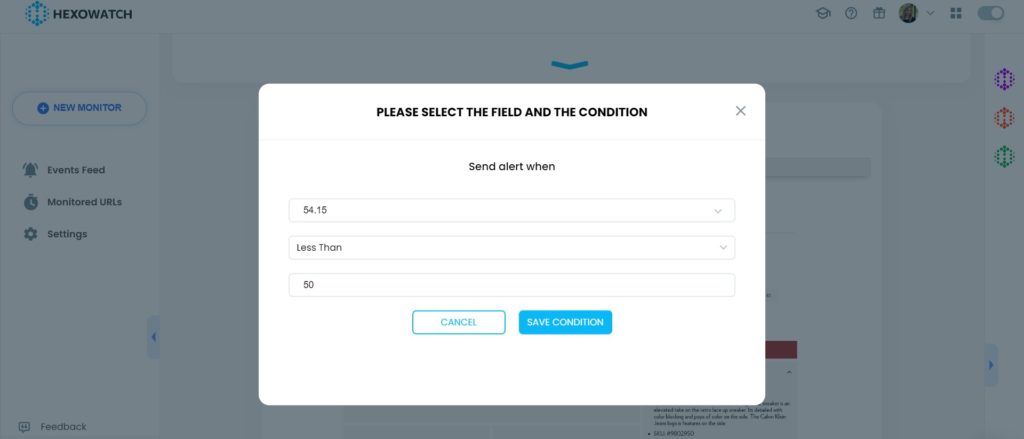 Save the condition.
Now, you can click Start Monitoring so that Hexowatch can start to track the changes.
Step 5: View and save the detected changes
Once any HTML code changes in the pricing of the product have been detected, you can view them in the Monitored URLs section of Hexowatch.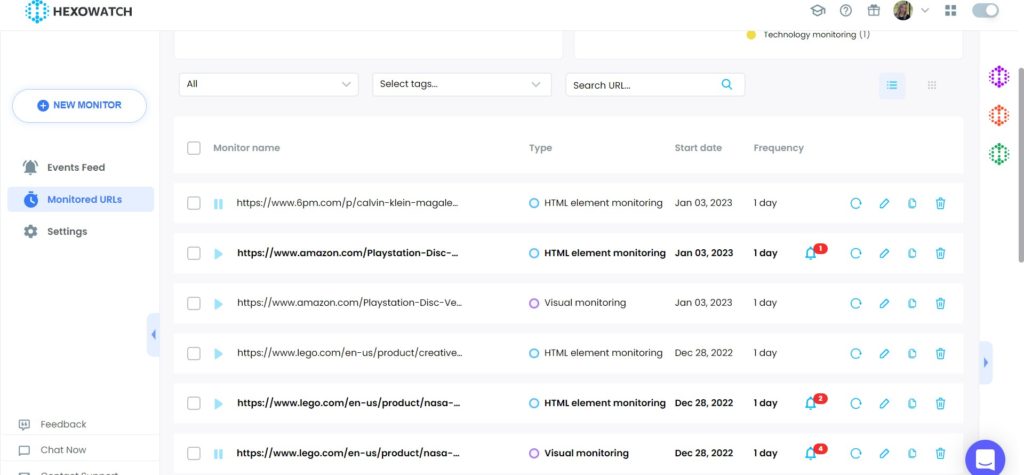 ---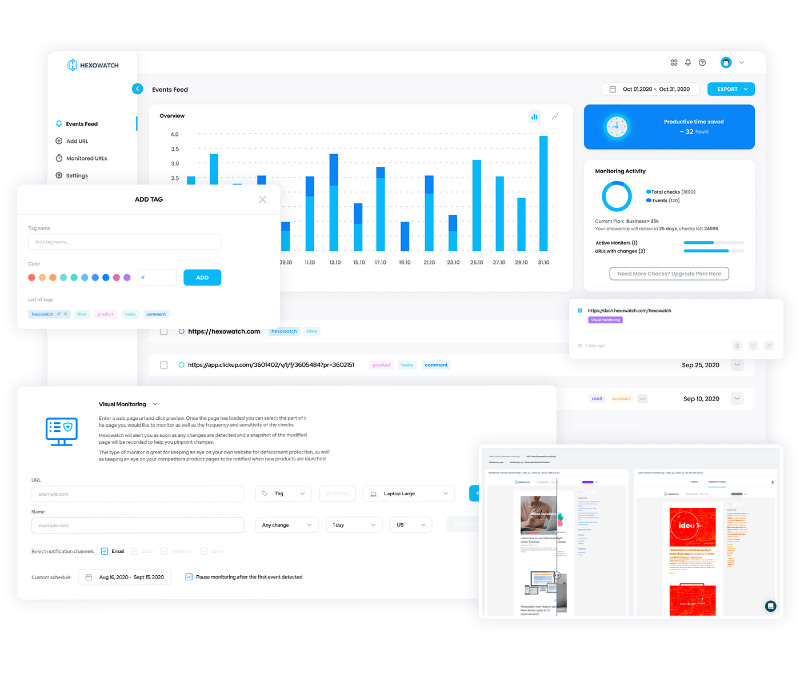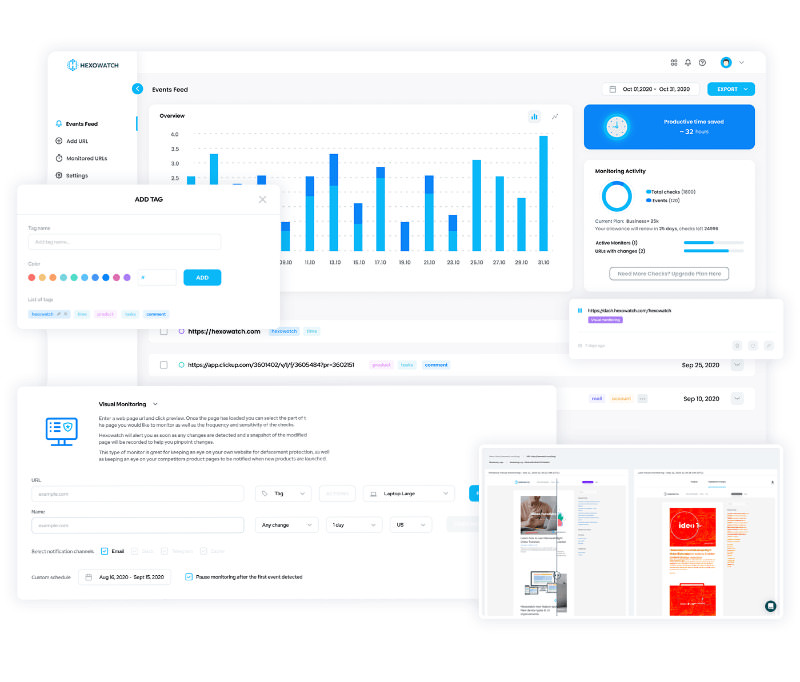 Automate page change monitoring with Hexowatch
Hexowatch is your AI sidekick to monitor any website for visual, content, source code, technology, availability, or price changes.

Hexowatch works 24/7 to help spot trends, spy on your competitors, visually check your website, keep an archive of every change and turn any website into your own private data source accessing changes as a downloadable CSV file, google sheets, or via Zapier.

Monitor any website and get started in minutes – no software, proxies, or programming required
Marketing Specialist | Content Writer
Experienced in SaaS content writing, helps customers to automate time-consuming tasks and solve complex scraping cases with step-by-step tutorials and in depth-articles.
Follow me on Linkedin for more SaaS content