Have you noticed that you automatically accept the terms of service for different websites and online services? I'm sure you did it many times because of a lack of time and reluctance to read all these legal terms.
But did you know that these conditions are often updated? These updates may actually have a negative impact on your privacy or legal rights.
This is why it's important to read the terms of service and keep up with any modifications that might be made in the future.
In this article, we'll discuss a few quick and practical ways to stay informed about potential terms of service updates. They will definitely come in handy whether you're a regular user of online services, a reseller, or someone who values their privacy.
We'll show you how you can set up notifications to get alerts when your favorite companies update their terms of service.
But first, let's find out what's "terms of service" and what kind of requirements and conditions they include:
ToS meaning
Terms of Service (ToS) or Terms of Use are a set of rules that control the interactions between them and their customers. The rules describe the conditions for using the service or accessing the content made available by the company.
For instance, if you are a reseller you'll face some stipulations by most companies that are related to the pricing of the products or quality standards. Resellers who fail to comply with these regulations, they will face repercussions.
What kind of information is usually included in the ToS?
Most companies have the following sections in their Terms of Services that you should read before using their services:
Marketing rights and obligations
This is important for resellers as they can't just use someone else's brand as they like even when they're selling their stuff. Resellers are accountable for the product and any problems that may arise with it as a reseller. It's critical to go by these guidelines to avoid legal problems and ensure that your customers know exactly what they're purchasing.
Payment terms and fees
Payment terms are related to the terms that govern the payment portion of a sale. They include specific details, such as the payment amount for services and products, offering discounts, how the payments are made, what happens when the users pay for services late, etc.
If you are a reseller, you should also pay attention to the additional costs and fees of reselling items.
Terms of agreement
You should keep in mind all the terms and conditions that you will have as a service user or reseller and what problems might occur that will lead to contract terminations. Reviewing the conditions regularly will help you avoid any unwanted issues with the companies you're collaborating with.
Warranties
When a manufacturer creates a product, they may offer a warranty to guarantee its quality for a certain amount of time. This means that if something goes wrong with the product during that time, the manufacturer will exchange it for a new one or repair it for free.
However, they may not be applicable if you're reselling the products. That's why you need to learn the details of the warranties before becoming a partner with this or that company.
Limitation of liability
Liability refers to the legal proceedings that customers can pursue against a business for products that were defective or damaged and resulted in some sort of harm or injury.
How to get alerts on terms of service update?
It's super easy to get notification about terms of service updates by using monitoring tools, such as Hexowatch. All you have to do is follow the simple steps mentioned below and you'll get instant alerts once any updates are made in the terms of service of your favorite company.
Here are the easy steps you should follow to get notifications through your preferred channels:
Step 1: Copy the URL of the company's terms and service webpage
Go to the company website and search for the page URL that lists the service terms and agreements.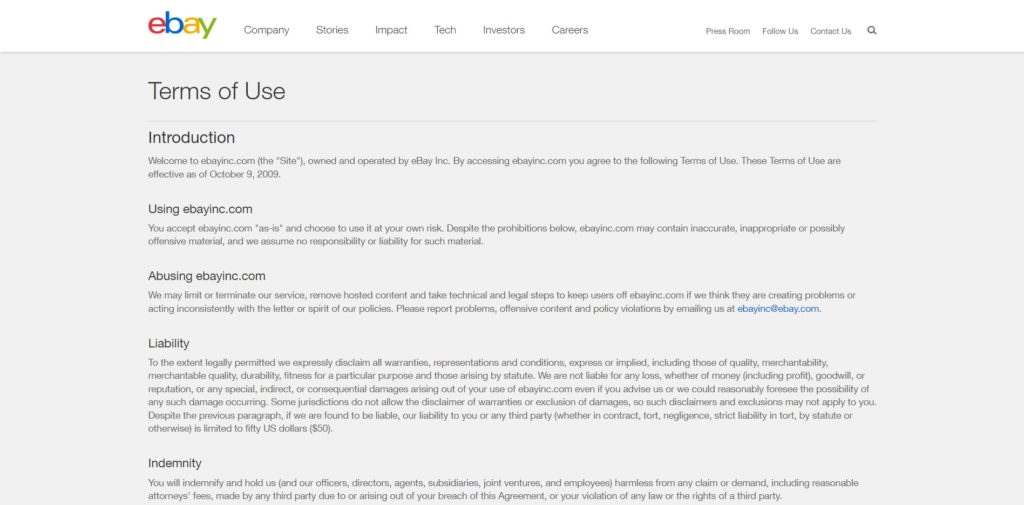 Step 2: Select the monitoring option
To set up monitoring for the website, go to your dashboard on Hexowatch.com and click on "New Monitor". From the list of monitors, you can either select "Visual Monitoring" or "Content Monitoring". Then, click on the Single URL option.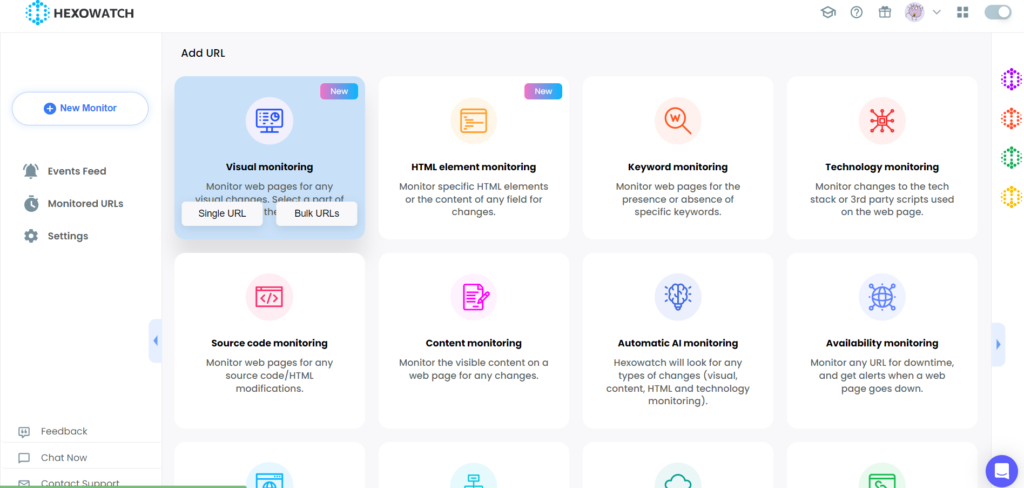 Step 3: Insert the captured page URL in Hexowatch
Next, paste the URL into the relevant field and click on the Preview button.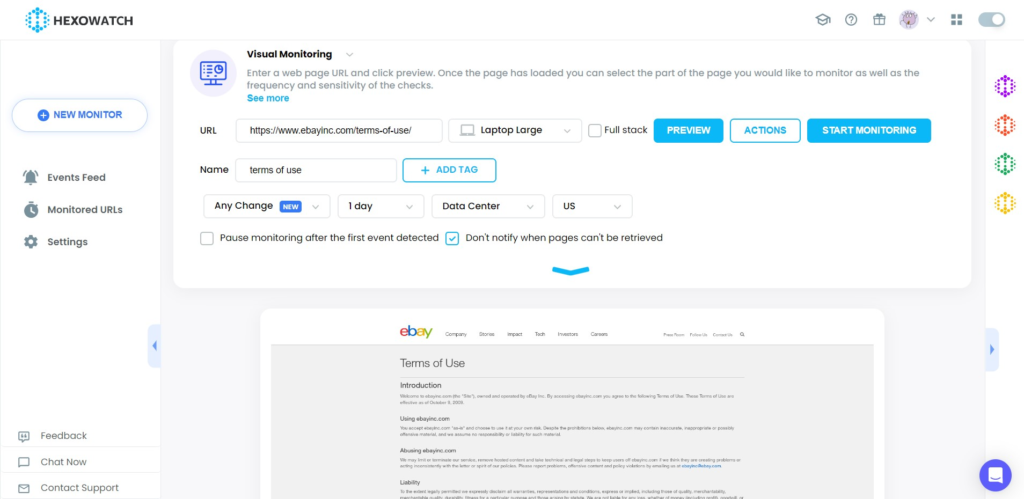 Step 4: Set the monitoring preferences
Once you've selected the type of monitoring you want, it's time to set your preferences. You can choose the level of sensitivity, how often you want the website to be checked, whether you want to use a data center or residential GEO proxy mode, and which notification channels you prefer to receive alerts through.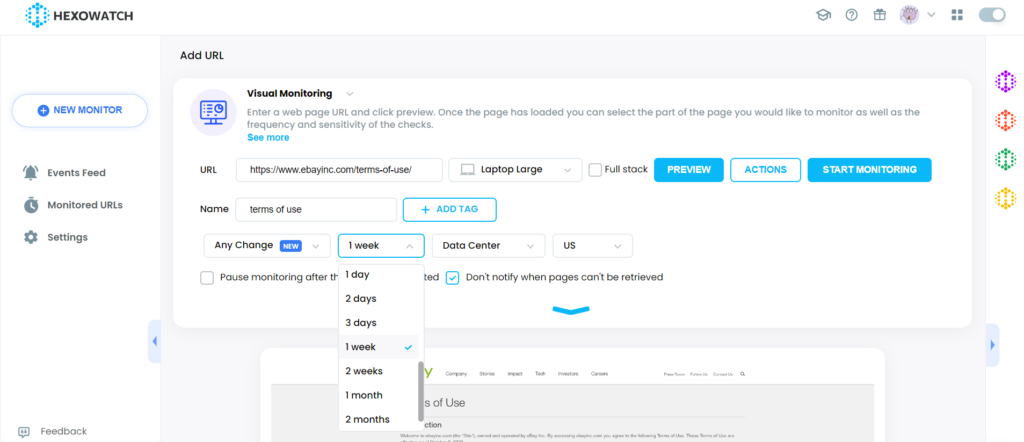 Once you've set your monitoring preferences, click on the Start Monitoring button to activate the monitoring process!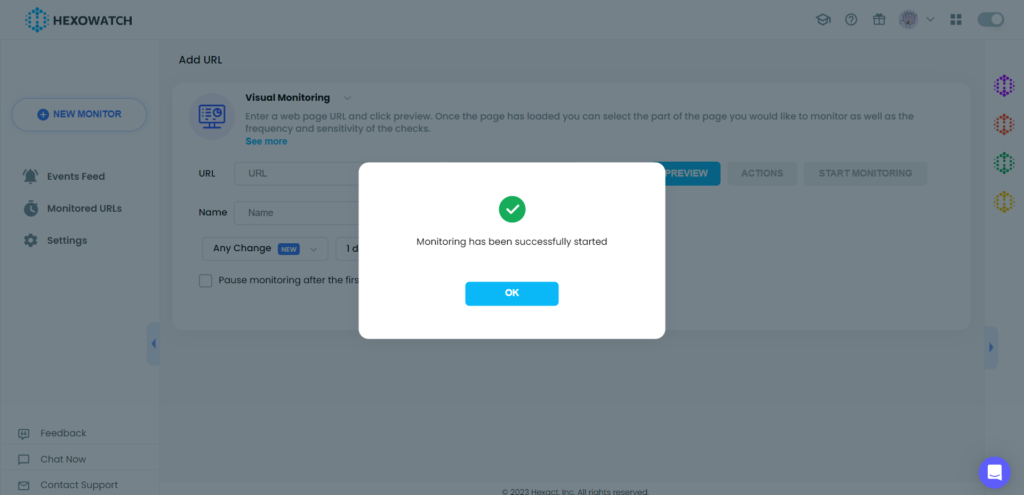 Step 5: View and save the detected changes
Once Hexowatch has detected a change in the website's terms and service, you will receive a notification through your chosen channels. You can then log in to your Hexowatch dashboard and view the changes in the Monitored URLs section.
Then you can export the results to Google Sheets or CSV in just one click!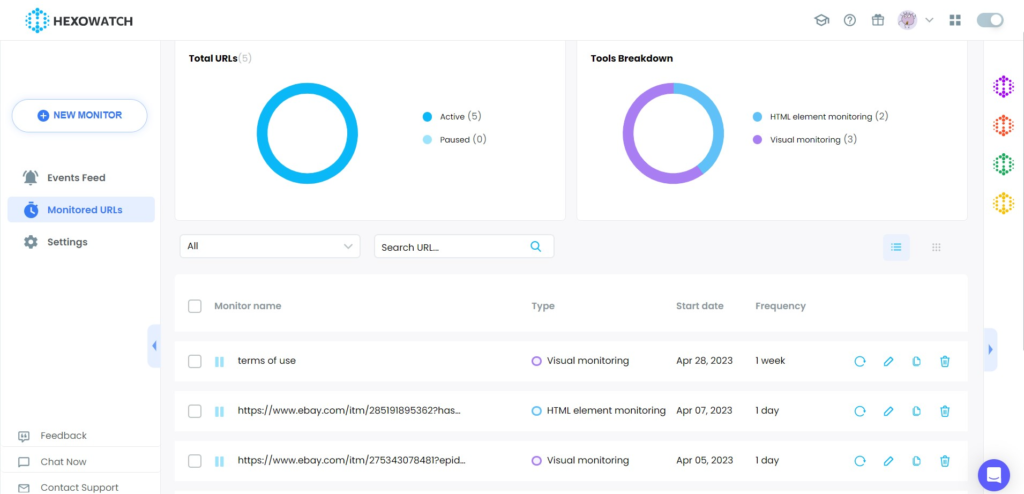 ---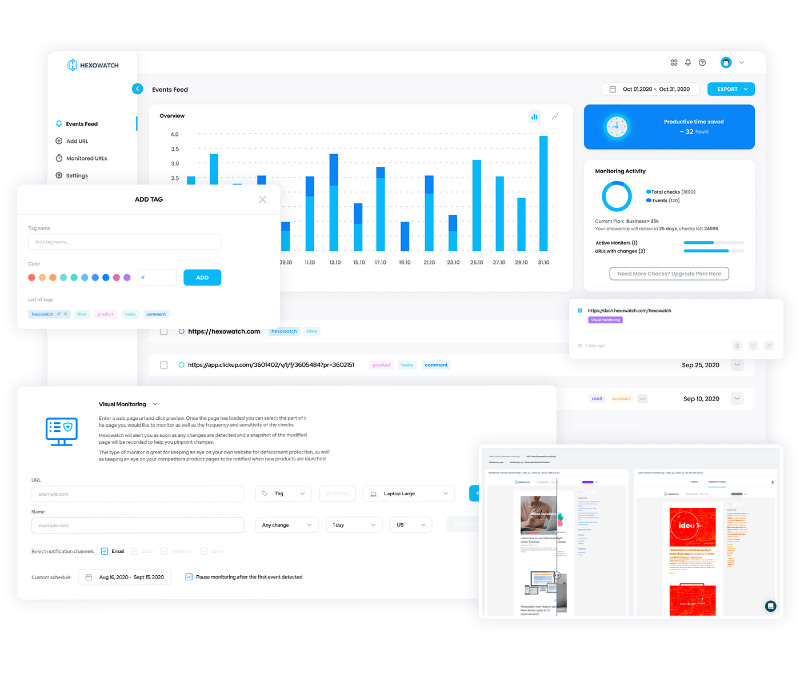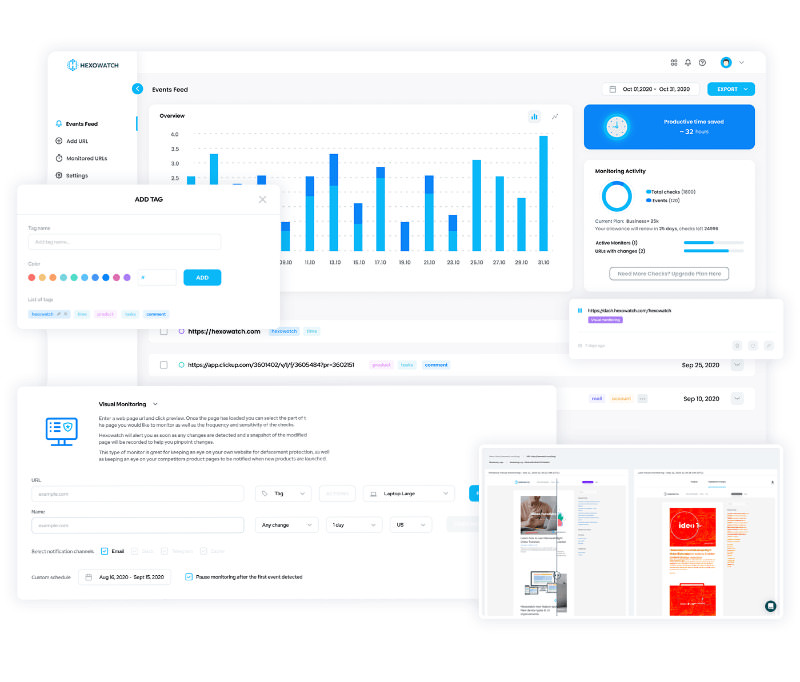 Automate page change monitoring with Hexowatch
Hexowatch is your AI sidekick to monitor any website for visual, content, source code, technology, availability, or price changes.

Hexowatch works 24/7 to help spot trends, spy on your competitors, visually check your website, keep an archive of every change and turn any website into your own private data source accessing changes as a downloadable CSV file, google sheets, or via Zapier.

Monitor any website and get started in minutes – no software, proxies, or programming required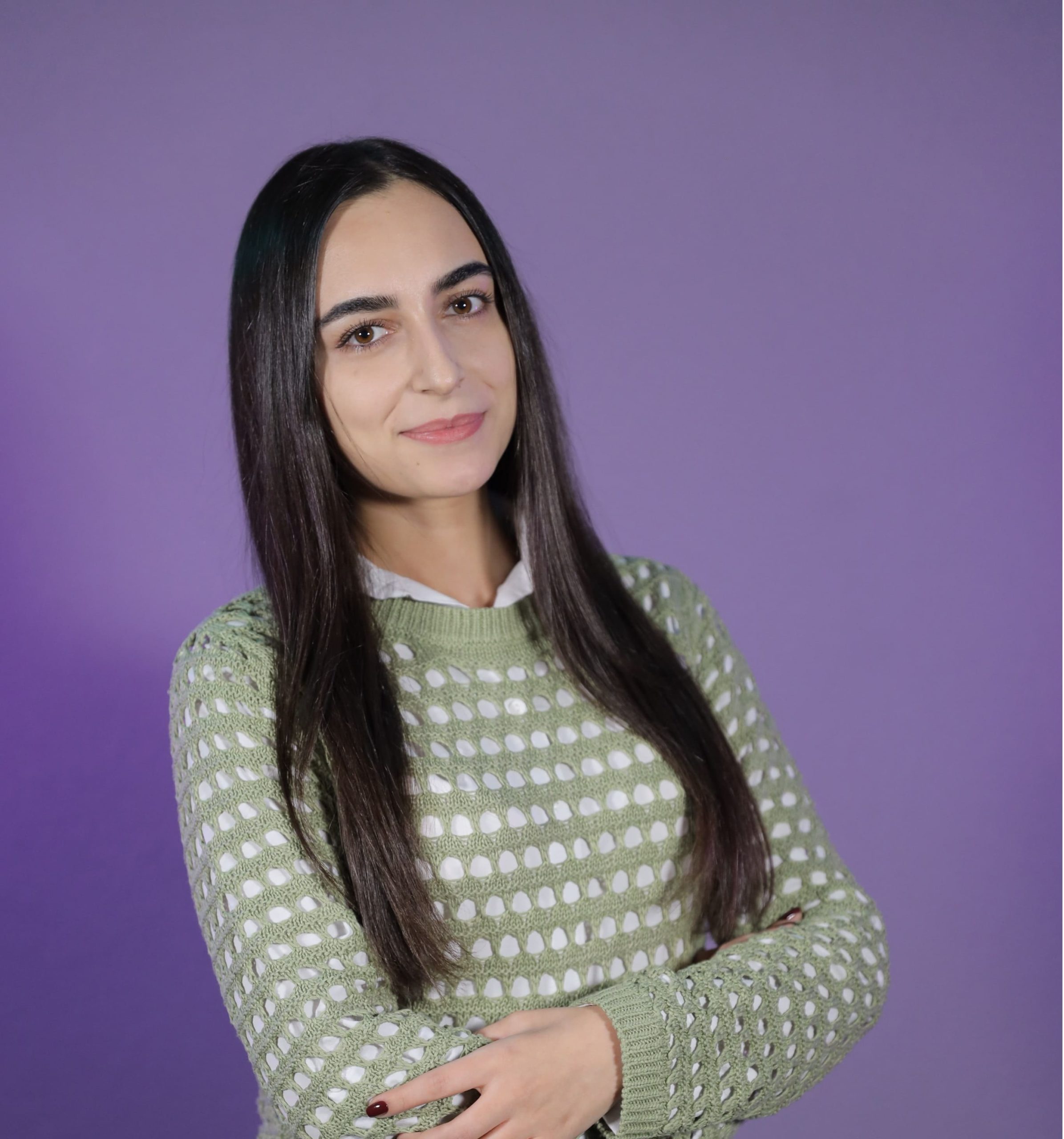 Content Writer | Marketing Specialist
Experienced in writing SaaS and marketing content, helps customers to easily perform web scrapings, automate time-consuming tasks and be informed about latest tech trends with step-by-step tutorials and insider articles.
Follow me on Linkedin